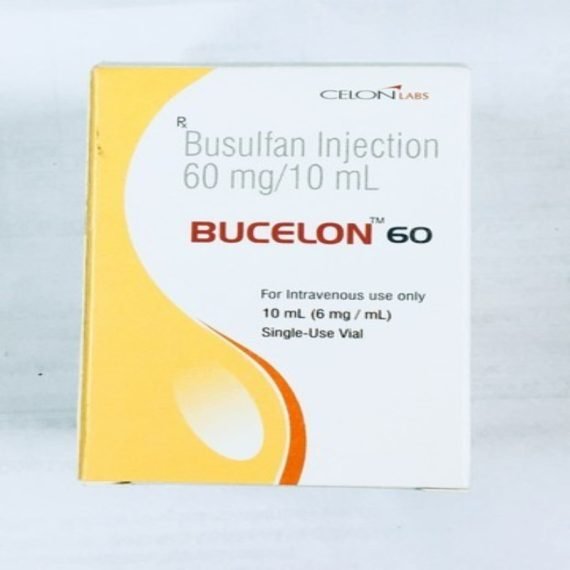 Bucelon – Busulphan 60mg Injection
Description
Busulphan (Bucelon) Injection – Treatment For Multiple Cancer
Busulphan or Bucelon 60mg Injection is a drug that is used to treat blood malignancies such as chronic myeloid leukemia. During hematopoietic progenitor cell transplantation, it is used in conjunction with other cancer medications (HPCT). It may also be used to treat cancers of other sorts.
Bucelon 60mg Injection is delivered by a healthcare provider as an injection into veins. This will vary depending on the reason you're being treated and may change over time. It can have potentially dangerous negative effects if taken incorrectly or in excess. You may not notice or feel the advantages for several weeks or months, but do not stop taking it until your doctor tells you to.
Fedelty Health Care is a Busulphan wholesaler, Pharmaceutical Cargo Bulk Exporter & Hospital Supply.
USES OF BUSULFAN (BUCELON) 60MG INJECTION
Blood cancer (Chronic myeloid leukemia)
WORKS OF BUSULPHAN (BUCELON) 60MG INJECTION 
Busulphan 60mg Injection is a cancer-fighting drug. It works by destroying the cancer cells' genetic material (DNA and RNA). Their growth and multiplication are halted as a result of this.
Fedelty Health Care is a certified Busulphan Bulk Pharma Exporter, Cargo Bulk Supplier, and pharmaceutical wholesaler in India.
DIRECTIONS FOR USE
For the dosage and duration of this drug, follow your doctor's instructions.
SIDE EFFECTS OF BUSULPHAN (BUCELON) 60MG INJECTION
The majority of side effects are minor and will go away as your body adjusts to the medication. If they don't go away or you're concerned, see your doctor.
Decreased blood cells (red cells, white cells, and platelets)
Nausea
Abdominal pain
Vomiting
Loss of appetite
Decreased potassium level in blood
The increased glucose level in blood
Fever
Headache
Anxiety
Insomnia (difficulty in sleeping)
Diarrhea
WARNING & PRECAUTIONS
It is unknown whether drinking alcohol while taking Bucelon 60mg Injection is safe. Please seek medical advice.
Bucelon 60mg Injection should not be used during pregnancy because there is clear evidence that it poses a risk to the growing infant. Please seek medical advice.
In people with kidney disease, Bucelon 60mg Injection is probably safe to use. Based on the limited information provided, a dose change of Bucelon 60mg Injection may not be necessary for these patients. Please seek medical advice.
On the usage of Bucelon 60mg Injection in individuals with liver disease, there is minimal information. Please seek medical advice.
Fedelty Health Care is a Busulphan bulk pharma exporter (Bucelon Exporter) and pharmaceutical third-party manufacturer operating businesses in Venezuela, Saudi Arabia, Cambodia, Oman, Brazil, Lebanon, Chile, Peru, Cuba, and Fiji. Hospital supply, government supply, named patient supply, cold chain supply, and drop shipment are some of the other services they offer.