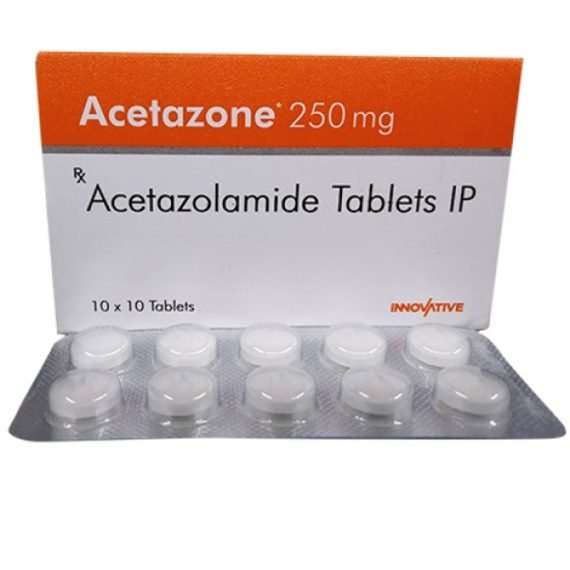 Acetazone – Acetazolamide Tablet
Innovative Pharmaceuticals
Description
ACETAZOLAMIDE (ACETAZONE) TABLET – TREATMENT FOR GLAUCOMA
Acetazone 250mg tablet is a medicinal drug used to lessen the strain on the eyes. This pressure may be because of or lead to contamination known as glaucoma. If the stress in your eye is simply too excessive it may harm your sight. Diamox pill works by lowering the amount of fluid interior the eye.
How Acetazone 250mg Tablet used?
You could take an acetone 250mg pill with food or without meals. The dose will depend on your situation and the way you reply to the medicine. Attempt to take it at an identical time every day. It's far crucial to hold off taking this remedy till your medical doctor tells you not to. Use this medicine often to get the maximum benefit from it even if you sense well.
Common Side effects of This Tablet.
The most common side effect is a headache. Other side effects include feeling tired, dizziness, and taste change. Make sure you read the leaflet that comes with your medicines and tells your doctor if you are bothered by side effects or if they do not go away. It may be possible to adjust your dose or try a different medicine. This drug is not recommended during pregnancy and you should ask your doctor before taking it if you have kidney or liver disease, heart trouble, or diabetes.
Precautions:
Prior to taking this medication, let your PCP know if you have any kidney or liver issues. Pregnant or breastfeeding moms ought to likewise counsel their PCP prior to taking it. Your PCP may check your kidney work, pulse, and potassium levels in your blood at ordinary stretches while you are taking this medication.