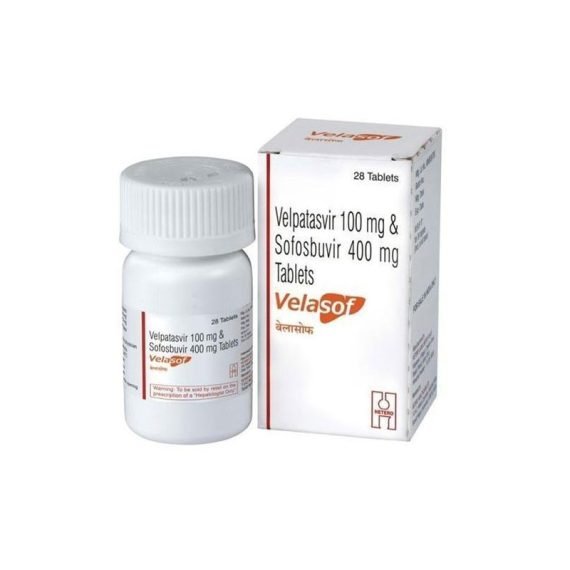 Velasof – Velpatasvir & Sofosbuvir
Description
 VELPATASVIR & SOFOSBUVIR (VELASOF) – A TREATMENT OR CHRONIC HEPATITIS C
Velasof Tablet (Sofosbuvir 400mg+Velpatasvir 100mg) is a two-antiviral medication combination. This prescription medication is used to treat chronic hepatitis C virus infection (HCV). It attacks viruses in order to get rid of the infection. Velasof Tablet should be taken according to the instructions for dosage and duration. It can be taken with or without food, but it must be taken every day at the same time. The patient should not take more than the recommended dose. If you have any health problems, such as liver or renal illness, you should tell your doctor. Because drinking alcohol while taking this drug can be dangerous, it is best to minimize or avoid it. For best results, the medicine should be taken to the end.  Fedelty Health Care is Sofosbuvir & Velpatasvir bulk pharma export, Cargo Bulk Supplier, Hospital & Government Supply. Buy Velasof at the best prices.
Uses of  Velpatasvir & Sofosbuvir ( Velasof )
Chronic hepatitis C virus (HCV) infection treatment
How Velpatasvir & Sofosbuvir (Velasof) Tablet works
Velpatasvir  & Sofosbuvir are two antiviral drugs that make up Velasof Tablet. They act by reducing the amount of the hepatitis C virus in the body and gradually eradicating the infection from the blood.
Fedelty Health Care is a bulk medicine exporter in India, pharma bulk supplier specializing in generic drugs of various kinds.
 Directions for use of Velasof
Follow your doctor's instructions on the dosage and duration of this medication. Take it all in at once. It should not be chewed, crushed, or broken. Velasof Tablet can be taken with or without food, however, it's best if you take it at the same time every day.
 Side-effects of Velasof  Tablet
 WARNING & PRECAUTIONS OF SOFOSBUVIR & VELPATASVIR
The adverse effects of Velasof Tablet may impair your ability to drive.
In people with liver illness, Velasof Tablet is safe to take. Velasof Tablet does not require any dose adjustments.
The usage of Velasof Tablet during pregnancy is usually regarded as safe. Animal research has demonstrated that there are little or no negative effects on the growing fetus; however, human studies are sparse.
Velasof Tablet is likely to be safe to take when breastfeeding. Based on limited human data, the medicine appears to pose no major harm to the fetus.
Fedelty Health Care is a Sofosbuvir & Velpatasvir bulk drugs exporter ( Velasof Exporter ) and third-party pharma manufacturer operating businesses in Venezuela, Saudi Arabia, Cambodia, Oman, Brazil, Lebanon, Chile, Peru, Cuba, and Fiji. Other services they provide are hospital supply, government supply, named patient supply, cold chain supply, and drop shipping.