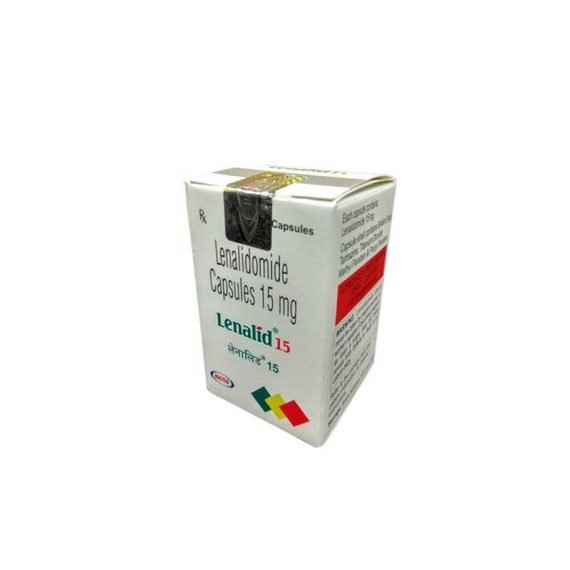 Lenalid – Lenalidomide 15mg Capsule
Description
Lenalidomide – a treatment of the myelodysplastic syndrome
Multiple myeloma and lepra reaction are treated with Lenalidomide 15mg (Lenalid 30 Capsule). This medication is part of a class of drugs that influence the way your immune system works.
Fedelty Health Care is a Lenalidomide cargo bulk exporter, Bulk Pharma Supplier, Pharma Wholesaler.
Lenalid 15mg Capsule can be taken with or without food, however, for the best results, take it at the same time every day. Your doctor will decide on the best dose and treatment duration. This will vary depending on the reason you're being treated and may change over time. You should strictly adhere to your doctor's directions. If used wrongly or in excess, it might have potentially dangerous side effects. You may not notice or feel the benefits for several weeks or months, but do not discontinue use until your doctor instructs you to.
Many other medicines can interact with or be impacted by this one, so tell your doctor about all of your medications. This medication should not be used during pregnancy or breastfeeding. It is critical for both males and females to utilize effective contraception during treatment to avoid conception. While taking this prescription, you should drink enough water to stay hydrated.
USES OF  LENALIDOMIDE (LENALID) CAPSULE 
Multiple myeloma
Lepra reaction
Fedelty Health Care is a certified Lenalidomide Bulk Pharma Exporter and Lenalidomide wholesaler in India. 
BENEFITS OF LENALIDOMIDE CAPSULE
Multiple myeloma is a type of cancer that affects the immune system.
Your body destroys bone quicker than it is replaced if you have multiple myeloma. Bones become weak, painful, and more likely to break as a result of this. Other cancer therapies, such as chemotherapy, may be recommended alongside Lenalid 15mg Capsule. It's a crucial aspect of your treatment and helps patients with multiple myeloma live longer. This medication will eliminate malignant cells and stop them from growing and spreading to other places of the body. To obtain the best benefit, please follow your doctor's directions. Calcium and Vitamin D3 supplements are also useful and may be suggested if your blood calcium levels are low.
Lepra responses are complex inflammatory reactions that can happen before, during, or after leprosy treatment, a deadly bacterial skin condition. In leprosy patients, these reactions worsen nerve damage and paralysis. As a result, drugs like Lenalid 15 Capsule are used to treat lepra responses in order to stimulate the immune system and promote recovery. This medication will also protect you from further lepra responses. To obtain the best advantage, follow the doctor's instructions.
SIDE EFFECTS OF LENALIDOMIDE(LENALID) CAPSULE
Headache
Weakness
Nausea
Rash
Dizziness
Sleepiness
Edema is a condition in which the body's (swelling)
Appetite loss.
White blood cell count is low.
Calcium deficiency in the blood Weight increase
Muscle deterioration
Fatigue
Fever
Anxiety
Clots in the blood
Skin that is parched
Loss of weight
Confusion
White blood cell count is low (neutrophils)
Neuropathy
Constipation
Tremor
HOW LENALID CAPSULE WORKS?
Lenalid 15mg Capsule is a cancer-fighting drug. It works by boosting the immune system, which then targets cancer cells indirectly. It stops the tumour from sprouting new blood vessels. It also inhibits the synthesis of chemical messengers (cytokines and growth factors) that promote cancer cell proliferation. This is how cancer is combated.
Fedelty Health Care is a Lenalidomide bulk pharma exporter ( Lenalid Exporter ) and pharmaceutical contract manufacturer operating businesses in Venezuela, Saudi Arabia, Cambodia, Oman, Brazil, Lebanon, Chile, Peru, Cuba, and Fiji. Other services they provide are hospital supply,  government supply, named patient supply, cold chain supply, and drop shipping.