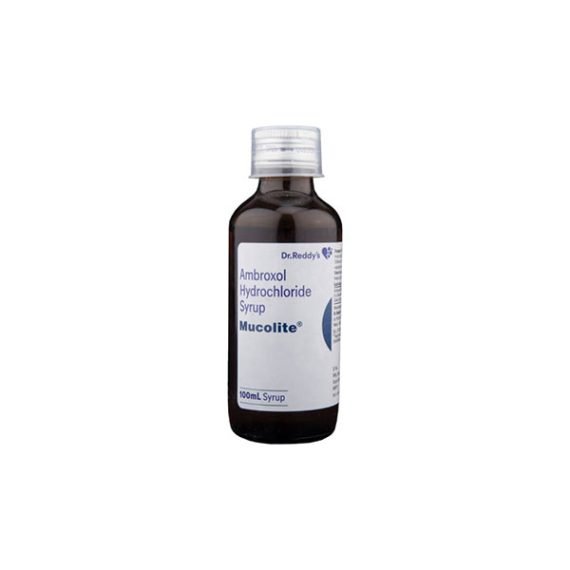 Mucolite – Ambroxol Syrup
Description
AMBROXOL (MUCOLITE) TABLET – TREATMENT OF RESPIRATORY TRACT DISORDERS ASSOCIATED WITH VISCID MUCUS
Ambroxol 100ml Syrup is used for treating various respiratory tract disorders associated with excessive mucus. It works by thinning and loosening mucus in the nose, windpipe, and lungs and making it easier to cough out.
How Ambroxol 100ml Syrup should be taken?
Ambroxol 100ml Syrup should be taken with food. For better results, it is suggested to take it at the same time every day.  The dose and how often you take it depend on what you are taking it for. Your doctor will decide how much you need to improve your symptoms.  It is advised not to use it for more than 14 days without a doctor's consultation.
Common Side effects of the Syrup.
The most common side effects of this medicine include vomiting, nausea, and stomach upset. Talk to your doctor if you are worried about side effects or if they would not go away. Generally, it is advised not to take alcohol while on treatment.
Precaution:
Before taking this medicine, tell your doctor if you have liver or kidney disease or if you have stomach problems. Your doctor should also know about all other medicines you are taking as many of these may make this medicine less effective or change the way it works. You must take the doctor's advice before using this medicine if you are pregnant or breastfeeding.
This medication is protected and powerful. It as a rule begins to work within a couple of moments and the impacts can last as long as a few hours. Accept it as endorsed by the specialist. Try not to quit utilizing it except if you are encouraged to by your PCP. Taking this medication empowers you to carry on with your life all the more openly without stressing such a huge amount over things that set off your side effects.