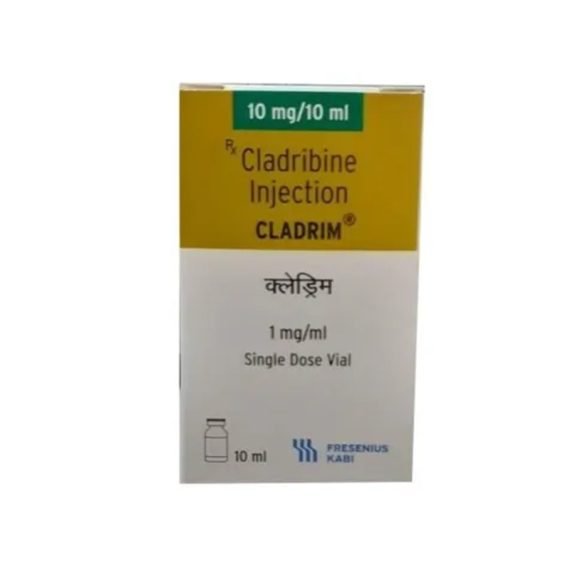 Cladrim – Clabribine Injection
Fresenius Kabi India Pvt Ltd
Description
CLABRIBINE (CALDRIM) INJECTION – TREATMENT FOR HAIRY CELL LEUKEMIA
Hairy cell leukemia, a blood and bone marrow malignancy, is treated with Cladrim Injection. According to the doctor's judgment, it may also be used to treat other disorders. It can be used either by itself or in a combination with other medications as part of combination therapy.
Under the direction of a doctor, Cladrim Injection is injected into the vein. Your doctor will determine the appropriate dosage and frequency of administration for you. This is based on the condition you are being treated for and is subject to change.
USES OF CLABRIBINE (CALDRIM) INJECTION
HOW CLABRIBINE (CALDRIM) INJECTION WORKS
By swapping their building elements, Cladrim Injection prevents cancer cells' DNA and RNA from growing. It stops the growth and reproduction of cancer cells.
SIDE EFFECTS OF CLABRIBINE (CALDRIM) INJECTION
Nausea
Fatigue
Headache
Rash
Fever
Injection site allergic reaction
WARNING & PRECAUTIONS
Cladrim Injections may cause side effects that impair your ability to drive.
Cladrim Injection may cause fatigue. This may impair your driving ability.
Cladrim Injection is safe for patients with kidney disease to use. There is no need to adjust the dose of Cladrim Injection.
Cladrim Using injections during pregnancy may be dangerous. Although there have been few human studies, animal studies have shown that it is harmful to the developing baby. Before prescribing it to you, your doctor will weigh the benefits against any potential risks. Please consult your doctor.