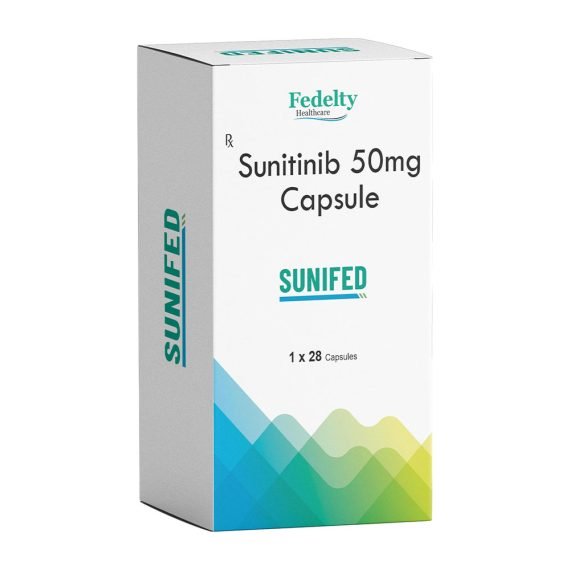 Sunifed – Sunitinib 50mg Capsule
Description
SUNITINIB (SUNIFED) CAPSULE – TREATMENT FOR CERTAIN TYPES OF ADVANCED OR PROGRESSIVE TUMORS OF THE STOMACH
Certain forms of advanced or advancing cancers of the stomach, intestines, esophagus, pancreas, or kidneys are treated with Sunitinib.
Additionally, sunitinib may be used for other conditions not included in this pharmaceutical guide.
USES OF SUNITINIB (SUNIFED) CAPSULE
progressive tumors of the stomach, intestines, esophagus, pancreas, or kidneys.
SIDE EFFECTS OF SUNITINIB (SUNIFED) CAPSULE
pain, redness, numbness, and peeling skin on your hands or feet;
easy bruising, unusual bleeding, purple or red spots under your skin;
painful skin sores, sores in your mouth or on your lips;
jaw pain or numbness, red or swollen gums, loose teeth, or slow healing after dental work;
confusion, thinking problems, vision loss, seizure;
heart problems–swelling, rapid weight gain, fast or pounding heartbeats, fluttering in your chest, shortness of breath, sudden dizziness (like you might pass out);
increased blood pressure–severe headache, blurred vision, pounding in your neck or ears, dizziness;
low blood sugar–headache, hunger, weakness, sweating, fast heart rate, feeling jittery;
signs of bleeding inside your body–change in your mental state, blood in your urine, pain and swelling in your stomach, bloody or tarry stools, coughing up blood or vomit that looks like coffee grounds;
BEFORE TAKING THIS MEDICINE
If you are allergic to sunitinib, you should avoid using it.
Inform your physician if you have ever had any of the following conditions: liver disease, heart disease, high blood pressure, low blood sugar, diabetes, bleeding issues, long QT syndrome (in you or a family member), and a thyroid ailment.
Jaw bone issues might result from sunitinib usage (osteonecrosis). People who have cancer, blood cell diseases, pre-existing dental issues, or who have received radiation, chemotherapy, or steroid treatment are most at risk. Discuss your own risk with your doctor.
If either the mother or the father uses sunitinib, it may damage the unborn child or result in birth abnormalities.