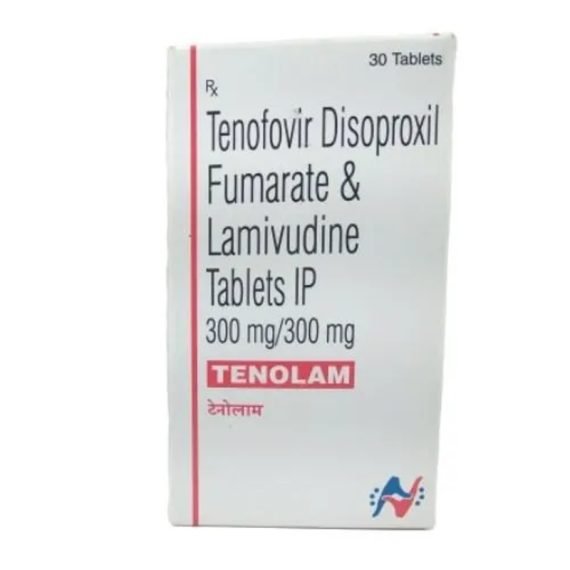 Tenolam -E – Tenofovir & Lamivudine Tablet
Description
TENOFOVIR & LAMIVUDINE (TENOLAM -E) TABLET – TREATMENT FOR CHRONIC HEPATITIS B VIRUS (HBV) INFECTION
Tenolam -E Tablet contains several antiretroviral drugs. HIV (human immunodeficiency virus) infection is treated with it. It increases immunity to combat HIV in order to manage or treat AIDS (acquired immunodeficiency syndrome).
Tenolam -E Tablet only works to reduce the amount of HIV in your body; it is not an AIDS or HIV cure. This lengthens your lifespan and lowers your chance of HIV-related illnesses. Along with other HIV medications, it is prescribed.
USES OF TENOFOVIR & LAMIVUDINE (TENOLAM -E) TABLET
Chronic hepatitis B virus (HBV) infection
WORKS OF TENOFOVIR & LAMIVUDINE (TENOLAM -E) TABLET
Tenolam -E Tablet stops the HIV virus from replicating in human cells, preventing the virus from making more viruses.
SIDE EFFECTS OF TENOFOVIR & LAMIVUDINE (TENOLAM -E) TABLET
Headache
Nausea
Dizziness
Vomiting
Allergic reaction
Increased liver enzymes
Agranulocytosis (deficiency of granulocytes in the blood)
Insomnia (difficulty in sleeping)
Sleepiness
Abnormal dreams
Fatigue
Anxiety
Fever
Itching
Difficulty in paying attention
Increased triglyceride level in blood
Rash
WARNING & PRECAUTIONS
Tenolam -E Tablet may make you feel tired and woozy, less attentive, or impact your vision. If you experience these symptoms, don't drive.
Tenolam -E Tablet should not be used during pregnancy because there is clear evidence that it poses harm to the unborn child. However, if the advantages outweigh the possible risks, a doctor might very rarely recommend it in specific life-threatening circumstances. Please speak with your physician.