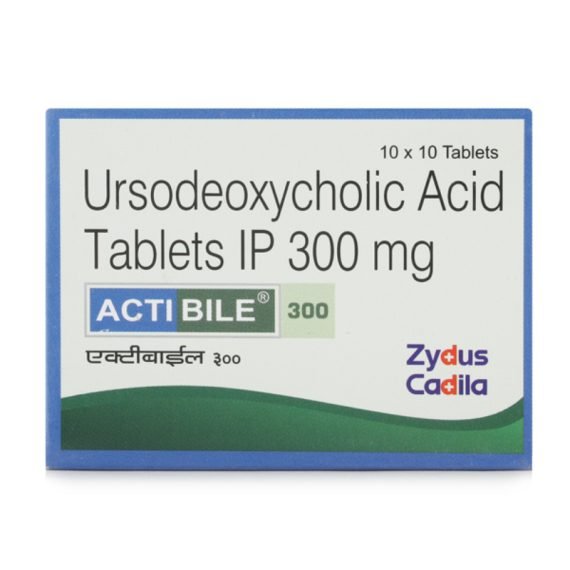 Actibile – Ursodeoxycholic Acid Tablet
Description
URSODEOXYCHOLIC ACID (ACTIBILE) TABLET – TREATMENT OF GALLBLADDER STONES
Actibile 150mg Tablet Ursodeoxycholic Acid is used to dissolve certain gallstones and prevent them from forming. It is also used to treat a type of liver disease called primary biliary cirrhosis. It helps break down the cholesterol that has converted into stones in your gallbladder thereby dissolving the stones.
How is Actibile 150mg Tablet Ursodeoxycholic Acid used?
Actibile 150mg Tablet Ursodeoxycholic Acid should be swallowed whole after a meal and with a glass of milk or water. The dose will depend on what you are being treated for and your body weight. Take it regularly to get maximum benefit and keep taking it for as long as prescribed (several months or longer). Keep taking it even if your symptoms disappear.
Common Side effects of This Medicine:
The Most Common side effects of this medicine are muscle pain, fatigue, constipation, and nausea. The results might be kept away by drinking a lot of water. Other side effects that may be seen in taking this medicine are increased appetite, depression, stomach discomfort, and breast pain. It might likewise cause you to feel mixed up or tired, so it exhorted you not to drive or do anything requiring focus until you know what it means for you. In the event that any of the results trouble you or continue, counsel the specialist immediately.
How This Medicine Works:
Take this medicine in the dose and duration as advised by your doctor. Swallow it as a whole. Do not chew, crush or break it. This tablet may be taken with or without food, but it is better to take it at a fixed time.
Precautions:-
Prior to getting the treatment, educate your PCP in the event that you are on any drug for any medical issue. In the event that you are pregnant or breastfeeding, advise your primary care physician preceding the treatment. Glaucoma (an infection related to expanded eye pressure) patients ought to be extra cautious while getting the treatment, and they should educate the specialist prior to starting it.