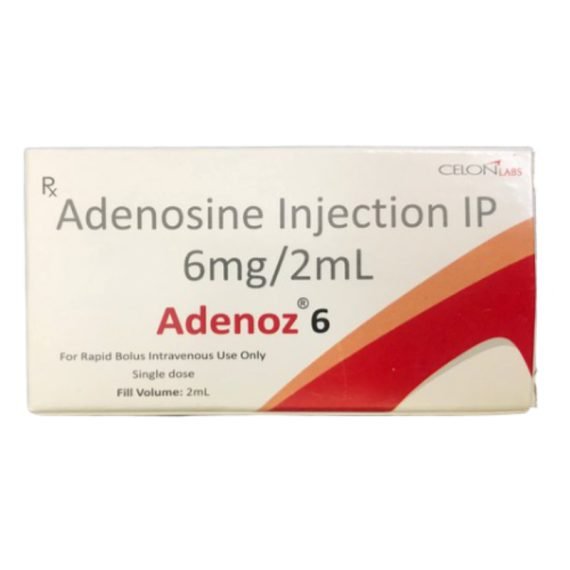 Adenoz – Adenosine Injection
Description
ADENOSINE (ADENOZ) INJECTION– TREATMENT FOR ARRHYTHMIA
Adenosine 6 mg Injection is an anti-arrhythmic medicine used to treat life-threatening arrhythmia (abnormal heart rhythm). It restores normal heart rhythm by blocking abnormal electrical signals in the heart.
How is Adenosine 6 mg Injection used?
Adenosine  6 mg Injection is also used to carry out diagnostic stress tests of the heart. It is administered under the supervision of a doctor. Your doctor will decide the dose and duration of the medicine for you. The doctor may closely monitor your blood pressure, heart rate, and ECG until you become stable. You should continue all your other medicines that are advised by the doctor for your long-term treatment even after this injection.
Common Side effects of this Injection:
Common side effects of this medicine include flushing (a sense of warmth in the face, ears, neck, and trunk), headache, chest pain, dizziness, and nausea. Consult your doctor if these effects bother you. This medicine is used with caution by some people. Thus, you must inform the doctor if you are suffering from any kidney or liver disease. Also, let your doctor know if you are pregnant or breastfeeding and all the other medications that you are taking regularly.
Precautions:
This injection is used to stabilize heart rhythms (particularly atrial fibrillation). It helps in normalizing an abnormal heart rhythm, preventing it from occurring in the first place, or slowing down the heart rate during an episode. It is given as an injection by a doctor or nurse and should not be self-administered. Follow your doctor's instructions carefully to get maximum benefit.