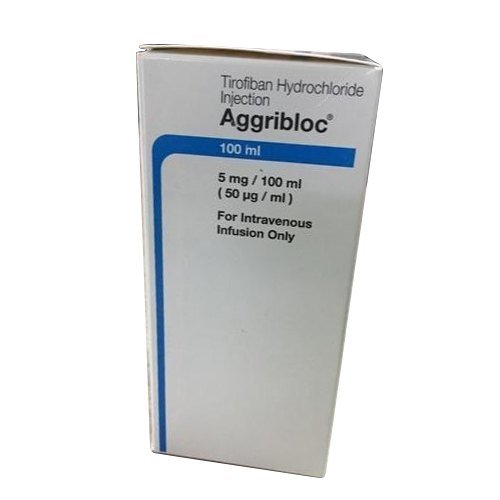 Aggribloc – Tirofiban 5mg Injection
Description
Description:
Fedelty Health Care operates companies in Venezuela, Saudi Arabia, Cambodia, Oman, Brazil, Lebanon, Chile, Peru, Cuba, and Fiji as Aggribloc 5mg Injection third-party manufacturer, major pharma exporter, and pharmaceutical contract manufacturer. Hospital supply, government supply, named patient supply, cold chain supply, and drop shipment are some of the other services they offer.
Aggribloc 5mg Injection is a blood thinner which prevents formation of harmful blood clots. It helps to prevent a heart attack in patients presenting with severe chest pain due to a sudden decrease in blood flow to the heart.
This Injection is administered under the supervision of a doctor. Your doctor will decide the dose and duration of the medicine for you. According to research you can continue all your other medicines that are advised by the doctor for your long term treatment even after this injection.
This medicine is used with caution for some people. Before taking it, you must inform the doctor if you are suffering from any bleeding disorder, kidney, or liver disease. Also, let your doctor know if you are breastfeeding and about all the other medications that you are taking regularly.
Uses of Aggribloc Injection:
Prevention of Heart attack
Benefit of Aggribloc Injection:
In Prevention of Heart attack
It prevents blood from clotting inside the veins and arteries. This helps the blood flow freely around your body thereby preventing a heart attack or stroke (or deep vein thrombosis or pulmonary embolism). Follow your doctor's instructions carefully and make appropriate lifestyle changes (such as eating healthy and staying active) to maximize the effectiveness of this medicine.
Side Effect of Aggribloc Injection:
Most side effects do not require any medical attention and disappear as your body adjusts to the medicine. Consult your doctor if they persist or if you're worried about them
Common side effects of Aggribloc: –
Nausea.
Headache.
Hematoma.
Ecchymosis (discoloration of the skin resulting from bleeding underneath).
Postoperative bleeding.
Blood in stool.
Blood in urine.
How to use Aggribloc Injection:
Your doctor or nurse will give you this medicine. Kindly do not self-administer.
Safety Advice:
Alcohol
It is not known whether it is safe to consume alcohol with Aggribloc 5mg Injection. Please consult your doctor.
Pregnancy
Taking this Injection is considered safe to use during pregnancy. Animal studies have shown low or no adverse effects to the developing baby; however, there are limited human studies.
Breast feeding
Aggribloc Injection should be used with caution during breastfeeding. Breastfeeding should be held until the treatment of the mother is completed and the drug is eliminated from her body.
Driving
Not relevant, as Aggribloc Injection is intended for use in hospitalized patients.
Kidney
It should be used with caution in patients with kidney disease. Dose adjustment of Aggribloc 5mg Injection may be needed. Please consult your doctor.
Liver
Aggribloc 5mg Injection should be used with caution in patients with liver disease. Dose adjustment of Aggribloc 5mg Injection may be needed. Please consult your doctor.
Use of Aggribloc Injection is not recommended in patients with severe liver disease.
What if you forget to take Aggribloc Injection?
If you miss a dose of Aggribloc 5mg Injection, please consult your doctor.