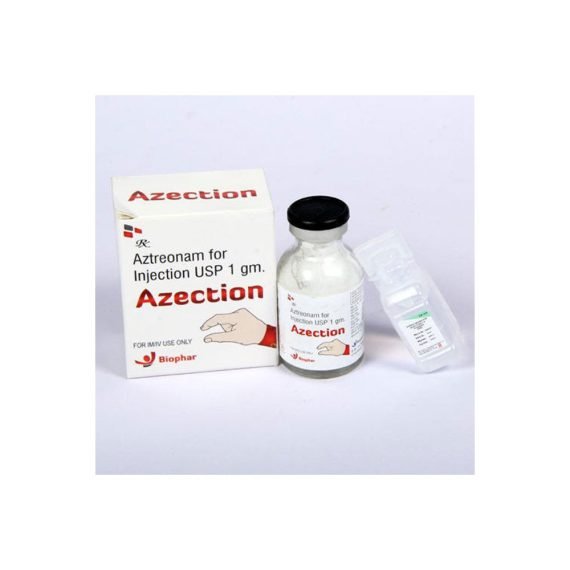 Azection – Aztreonam Injection
Description
AZTREONAM (AZECTION) INJECTION – TREATMENT OF SEVERE BACTERIAL INFECTIONS
Antimicrobial agent Azection Injection is used to prevent or cure a variety of bacterial infections. Diseases of the urogenital system, blood, brain, ear, skin, fragile tissue, stomach, bone, windpipe, and lungs may be included.
How is Section 1000mg Injection used?
Azithromycin 1000mg Under the supervision of a clinically qualified professional, an injection is administered as a spill (intravenous implantation) or as an imbuement straight into a vein or a muscle. When recommended by your primary care physician, it should be used consistently over equally spaced time intervals. Regardless of whether you feel significantly better, make an attempt to attend all of the segments and finish the entire course of treatment.
Common Side effects of this Injection:-
The most noticeable effects might be considered to be rash, throwing up, illness, and runs. The imbuement site may similarly experience brief pain, growth, and redness as the combination site. On the off chance that any of these effects persist or, alternatively, on the off chance that your condition worsens despite therapy, speak with your primary care physician.
Before taking this medication, inform your primary care physician if you have ever experienced sensitivity or cardiac problems.
How This Injection works:-
This infusion functions by eliminating microscopic living things that can actually create infections. Numerous different types of bacterial diseases, including those that affect the blood, frontal cortex, ear, skin, delicate tissue, waist, bone, windpipe, and urinary tract, are treated with it. It is administered into a vein by a qualified professional or clinical guardian and should not behave normally controlled.