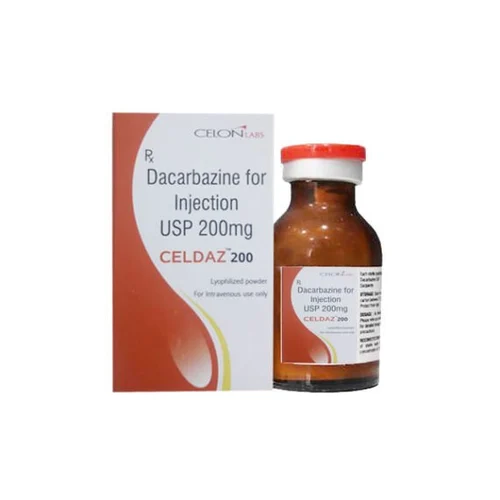 Celdaz – Decarbazine 200mg Injection
Description
Description:
Fedelty Health Care operates companies in Venezuela, Saudi Arabia, Cambodia, Oman, Brazil, Lebanon, Chile, Peru, Cuba, and Fiji as Celdaz 200mg Injection third-party manufacturer, online pharmacy dropshipping, major pharma exporter, and pharmaceutical contract manufacturer. Hospital supply, government supply, named patient supply, cold chain supply, and drop shipment are some of the other services they offer.
Celdaz 200mg Injection is used in the treatment of cancers of lymphatic system and malignant melanoma (a type of skin cancer). It may be also used to treat other conditions, as determined by the doctor.
Celdaz 200mg Injection is given as an injection into a vein by the healthcare professional, but better if injected at the same time every day. Your doctor will decide what dose is necessary and how often you need to take it. This will depend on what you are being treated for and may change from time to time. You should take it exactly as your doctor has advised. Taking it in the wrong way or taking too much can cause very serious side effects. It may take several weeks or months for you to see or feel the benefits but do not stop taking it unless your doctor tells you to.
Uses of Celdaz Injection:
Malignant melanoma.
Hodgkin's disease.
Benefits of Celdaz Injection:
In Malignant melanoma
Malignant melanoma is a type of skin cancer that develops in melanocytes, the cells that produce the pigment called melanin. Melanin is the pigment that gives the skin its color. Malignant melanoma is the most deadly and aggressive kind of skin cancer. Celdaz 200mg Injection sticks to the genetic code, called DNA,of the cancer cells and kills them . It also prevents their growth and further spread. This helps to treat the cancer.
In Hodgkin's disease
Hodgkin's disease is a type of lymphoma, which is a blood cancer that starts in the lymphatic system. The lymphatic system helps the immune system get rid of waste and fight infections. Celdaz 200mg Injection kills or stops the growth of cancer cells and also prevents the multiplication of cancer cells. Follow your doctor's instructions carefully.
Side Effects of Celdaz Injection:
Most side effects do not require any medical attention and disappear as your body adjusts to the medicine. Consult your doctor if they persist or if you're worried about them.
Common side effects of Celdaz: –
Nausea.
Vomiting.
Injection site pain.
Decreased white blood cell count.
Loss of appetite.
How to use Celdaz Injection:
Your doctor or nurse will give you this medicine. Kindly do not self administer.
How Celdaz Injection works:
Celdaz 200mg Injection is an anti-cancer medication. It works by damaging the genetic material (DNA and RNA) of the cancer cells. This stops their growth and multiplication.
Safety Advice:
Alcohol
Caution is advised when consuming alcohol with Celdaz 200mg Injection. Please consult your doctor.
Pregnancy
Celdaz 200mg Injection may be unsafe to use during pregnancy. Although there are limited studies in humans, animal studies have shown harmful effects on the developing baby. Your doctor will weigh the benefits and any potential risks before prescribing it to you. Please consult your doctor.
Breast feeding
Celdaz 200mg Injection is probably unsafe to use during breastfeeding. Limited human data suggests that the drug may pass into the breastmilk and harm the baby.
Driving
Celdaz 200mg Injection may cause side effects which could affect your ability to drive. Celdaz 200mg Injection may influence the ability to drive because of its central nervous system side effects.
Kidney
Celdaz 200mg Injection should be used with caution in patients with kidney disease. Dose adjustment of this injection may be needed. Please consult your doctor.
Liver
Celdaz 200mg Injection should be used with caution in patients with liver disease. Dose adjustment of this injection may be needed. Please consult your doctor for more beterment.
If any of the side effects get worse, tell your doctor. There may be ways of preventing or reducing these effects. It is very strong medicine and some people may develop serious side effects while taking it. This medicine may lower your ability to fight infections and lead to problems with your blood, liver or kidneys. Inform your doctor if you notice unusual bleeding or bruising, lack of energy, loss of appetite, and yellowing of eyes. Your doctor will advise you regular blood tests to check for these.
What if you forget to take Celdaz Injection?
If you miss a dose of Celdaz 200mg Injection, take it as soon as possible. However, if it is almost time for your next dose, skip the missed dose and go back to your regular schedule. Do not double the dose.