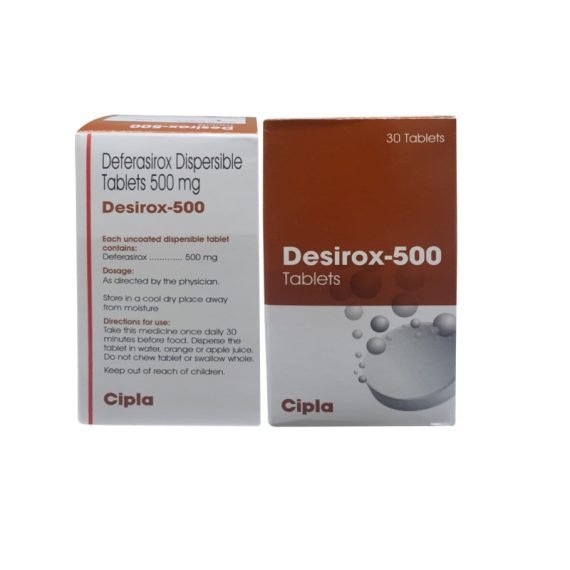 Desirox – Deferasirox 500mg Tablet
Description
DEFERASIROX (DESIROX) TABLET- TREATMENT OF CHRONIC IRON OVERLOAD
Deferasirox or Desirox 500mg Tablet is a prescription medication used to treat chronic iron overload caused by frequent blood transfusions. It aids in the removal of excess iron from the body, lowering the risk of organ damage. Desirox 500mg Tablet should be taken first thing in the morning on an empty stomach. To get the most out of it, take it at the exact dose and duration, and take it at the same time every day.
As the name implies, iron overload refers to an excess of iron in the human body. Too much iron can damage organs, leading to conditions such as cancer, irregular heartbeat, and liver cirrhosis. Symptoms are associated with conditions caused by iron overloads, such as high blood sugar levels (diabetes), skin darkening, abnormal heart rhythm, or arthritis. This excess iron can be reduced to safe levels by using Desirox 500mg Tablet, which removes it from the body through stools. This reduces the likelihood of organ damage and prevents further complications. To get the most out of Desirox 500mg Tablet, take it exactly as directed by your doctor.
Fedelty Health Care is a Deferasirox wholesaler, Pharmaceutical Cargo Bulk Exporter & Hospital Supply.
USES OF DEFERASIROX (DESIROX) 500MG TABLET
WORKS OF DEFERASIROX (DESIROX) 500MG TABLET 
Desirox 500mg Tablet binds to and removes excess iron, which is then primarily excreted in the stools. This reduces the possibility of organ damage.
Fedelty Health Care is a certified Deferasirox Bulk Pharma Exporter, Cargo Bulk Supplier, and pharmaceutical wholesaler in India.
SIDE EFFECTS OF DEFERASIROX (DESIROX) 500MG TABLET
The majority of side effects do not necessitate medical attention and will go away as your body adjusts to the medication. Consult your doctor if they persist or if you are concerned.
Vomiting
Rash
Diarrhea
Itching
Nausea
Headache
Constipation
Abdominal pain
WARNING & PRECAUTIONS
Using Desirox 500mg Tablet during pregnancy is extremely dangerous. Seek medical counsel, as research on pregnant women and animals has shown that some foods can harm the growing baby.
When taking Desirox 500mg tablet, use caution when drinking alcohol. Please get advice from a physician.
Patients with kidney illness should use Desirox 500mg tablet with caution. Desirox 500mg tablet dosage may need to be adjusted. Please seek medical advice. While using this medication, you should get your kidney function tested on a regular basis.
Fedelty Health Care is a Deferasirox bulk pharma exporter (Desirox Exporter) and pharmaceutical third-party manufacturer operating businesses in Venezuela, Saudi Arabia, Cambodia, Oman, Brazil, Lebanon, Chile, Peru, Cuba, and Fiji. Hospital supply, government supply, named patient supply, cold chain supply, and drop shipment are some of the other services they offer.