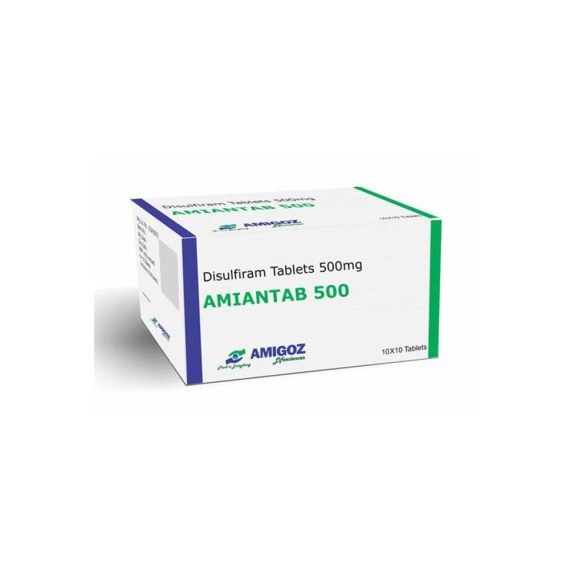 Amiantab – Disulfiram Tablet
Description
DISULFIRAM (AMIANTAB) TABLET – TREATMENT OF ALCOHOL ADDICTION
Amiantab 500mg Tablet is a medicine used in the treatment of alcohol addiction. It works by producing interaction with alcohol and thereby causing unpleasant effects like nausea, flushing of the face, and headaches. Thus, it discourages the patient from taking alcohol while on this medication.
How Amiantab 500mg Tablet is used?
You can take Amiantab 500mg Tablet with or without food. The dose will depend on your condition and how you respond to the medicine. Try to take it at the same time each day. It is important to keep taking this medicine until your doctor tells you not to. Use this medicine regularly to get the most benefit from it even if you feel well.
Common Side effects of This Tablet.
Some common side effects of this medicine include headache, fatigue, drowsiness, and a metallic taste. Initially, it may also cause dizziness and sleepiness, so do not drive or do anything that requires mental focus until you know how this medicine affects you. It is important to know that you should take this tablet in combination with a counseling program as it will provide extra help to maintain abstinence from alcohol. Remember, it will take time, support, willpower, and determination to readjust to the habit of not drinking.
Precautions:
Prior to taking this medication, please let your PCP know if you have any kidney or liver issues. Pregnant or breastfeeding moms ought to likewise counsel their PCP prior to taking it. Your PCP may check your kidney work, pulse, and potassium levels in your blood at ordinary stretches while you are taking this medication.