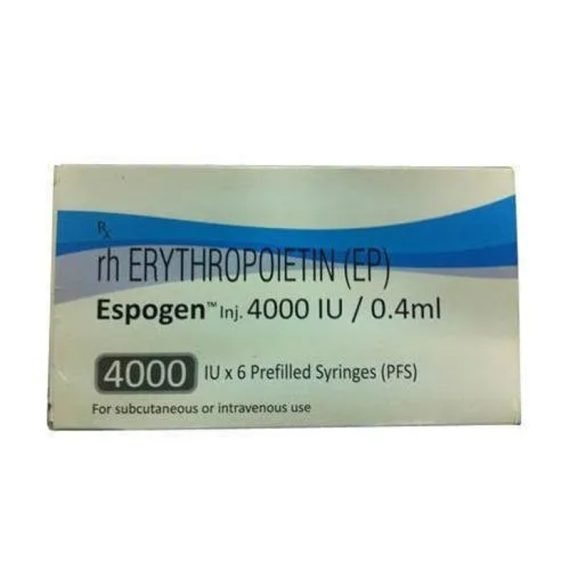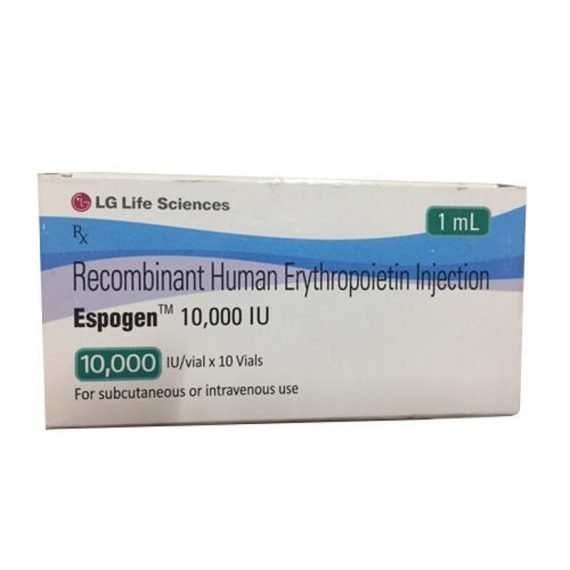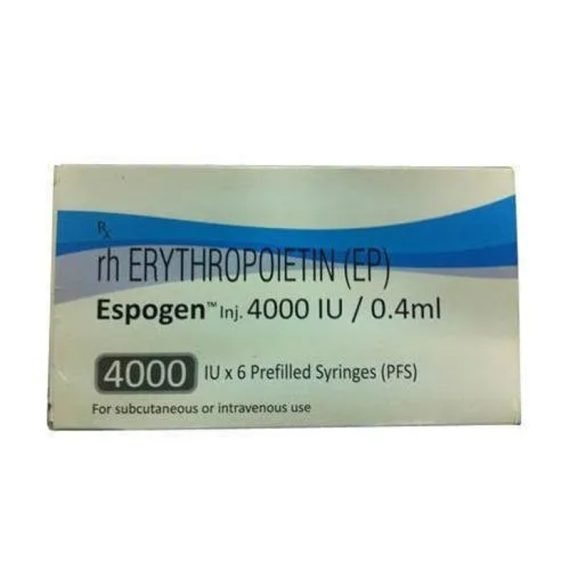 Espogen – Erythropoietin Injection
Description
ERYTHROPOIETIN (ESPOGEN) INJECTION – TREATMENT FOR ANEMIA DUE TO CHRONIC KIDNEY DISEASE
Espogen Injection is a medication that stimulates the production of extra red blood cells in your bone marrow. A specific type of anemia brought on by kidney illness is treated with it. Additionally, it is used to treat anemia brought on by HIV medication use and cancer treatment.
Espogen Injection is administered intravenously, as determined by your doctor, either beneath the skin or into a vein. Usually, a nurse or doctor administers the shots. Your body weight and the reason for your anemia will determine the dosage.
Fedelty Health Care is an Erythropoietin wholesaler, Pharmaceutical Cargo Bulk Exporter & Hospital Supply.
USES OF ERYTHROPOIETIN (ESPOGEN) INJECTION
Treatment of Anemia due to chronic kidney disease
Treatment of Anemia due to cancer chemotherapy
WORKS OF ERYTHROPOIETIN (ESPOGEN) INJECTION
Espogen Injection is a substance that stimulates erythropoiesis (ESA). It functions by encouraging the production of more red blood cells in the bone marrow, a soft tissue found inside the bones that generate red blood cells.
SIDE EFFECTS OF ERYTHROPOIETIN (ESPOGEN) INJECTION
High blood pressure
Nausea
Vomiting
Fever
Rash
Joint pain
Headache
Insomnia (difficulty in sleeping)
Chills
Cough
Bone pain
Muscle spasm
Dizziness
Vascular occlusion
Injection site irritation
Stomatitis (Inflammation of the mouth)
Weight loss
WARNING & PRECAUTIONS
Espogen Injection adverse effects could impair your ability to operate a vehicle.
Use of Espogen Injection during pregnancy may be dangerous. Despite the paucity of human studies, studies on animals have indicated negative consequences on the developing fetus. Before giving you a prescription, your doctor will consider the advantages and any possible hazards. Please speak with your physician.
Fedelty Health Care is an Erythropoietin third-party manufacturer, bulk pharma exporter, and pharmaceutical contract manufacturer operating businesses in Venezuela, Saudi Arabia, Cambodia, Oman, Brazil, Lebanon, Chile, Peru, Cuba, and Fiji. Other services they provide are hospital supply, government supply, named patient supply, cold chain supply, and drop shipping.