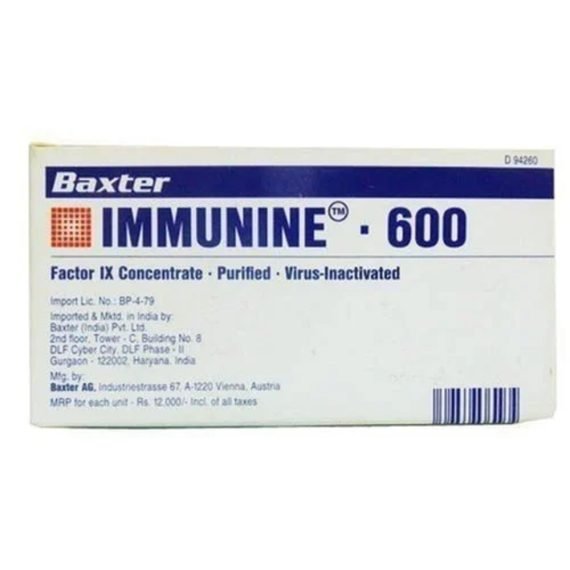 Immunate – Factor Viii Injection
Baxter India Private Limited
Description
FACTOR VIII (IMMUNATE) INJECTION – TREATMENT FOR HEMOPHILIA (HEMOPHILIA A)
Human coagulation factor VIII is present in Immunate Injection. For the treatment of conventional hemophilia (hemophilia A). Due to a deficiency in the clotting factor Factor VIII, hemophilia A is a hereditary bleeding condition that prevents blood from clotting correctly. Hemophiliacs who take this injection can control or stop their bleeding episodes. Performing surgery on hemophiliacs is also beneficial. Before receiving therapy, you must disclose to your doctor whether you are pregnant or nursing.
USES OF FACTOR VIII (IMMUNATE) INJECTION
Prevents or controls bleeding in patients with Hemophilia A
HOW FACTOR VIII (IMMUNATE) INJECTION WORKS
The clotting factor is temporarily replaced by Immunate Injection, which also stops bleeding.
SIDE EFFECTS OF FACTOR VIII (IMMUNATE) INJECTION
Nausea, vomiting
Redness and itching at the injection site
Blushing of the skin
Inflammation of the vein
Cough
Bleeding into the joint spaces or in the muscle tissue
WARNING & PRECAUTIONS
Immunate Injection may make you feel drowsy and lightheaded, less alert, or have an impact on your vision. If you experience these symptoms, don't drive.
There is no information available on using Immunate Injection while pregnant. Please speak with your physician.