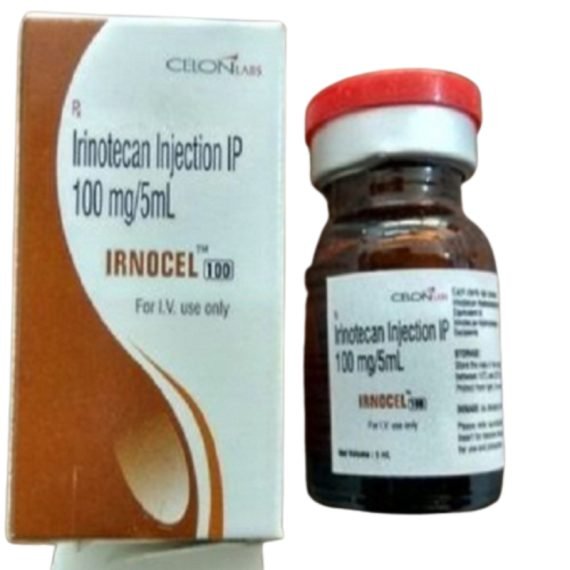 Irnocel – Irinotecan 100mg Injection
Description
Irinotecan(Irnocel) Injection – Treatment For Multiple Cancer
Irinotecan or Irnocel 100mg Injection is a drug that is used to treat cancers of the colon and rectum. Its effectiveness is demonstrated by the fact that it stops or slows the proliferation of cancer cells.
A qualified medical expert administers Irnocel 100mg Injection as an IV infusion into a vein. Your doctor will determine the appropriate dose and frequency of administration. This will vary depending on the reason you're being treated and may change over time. You should follow your doctor's instructions in the letter. It can have potentially dangerous negative effects if taken incorrectly or in excess.
The development of cancer from two portions of the large intestine, particularly the colon or rectum, is known as colon and rectum cancer, also known as colorectal cancer (CRC) or bowel cancer. The person may experience symptoms such as blood in the stool, changes in bowel movements, weight loss, and exhaustion if they have this type of cancer. 100mg Irnocel Injection cures malignant growths (polyps) and reduces the chance of getting bowel cancer. It destroys or slows the growth of cancer cells, as well as prevents their replication. It's a powerful but dangerous treatment, so talk to your doctor about the dangers and advantages.
Fedelty Health Care is an Irinotecan wholesaler, Pharmaceutical Cargo Bulk Exporter & Hospital Supply.
USES OF IRINOTECAN (IRNOCEL) 100 MG INJECTION
cancers of colon and rectum
WORKS OF IRINOTECAN (IRNOCEL) 100 MG INJECTION 
Irinotecan 100mg Injection is a cancer-fighting drug. It acts by inhibiting the action of a protein called topoisomerase I, which is involved in cancer cell DNA multiplication. Cancer cells' growth is slowed, and they finally die as a result.
Fedelty Health Care is a certified Irinotecan Bulk Pharma Exporter, Cargo Bulk Supplier, and pharmaceutical wholesaler in India.
SIDE EFFECTS OF IRNOCEL INJECTION
Fatigue
Nausea
Vomiting
Weakness
Hair loss
Fever
Anemia (low number of red blood cells)
Diarrhea
Decreased white blood cell count (neutrophils)
Decreased appetite
Mucosal inflammation
SAFETY ADVICE
Alcohol
It is unknown whether drinking alcohol while taking Irnocel 100mg Injection is safe. Please seek medical advice.
Pregnancy
Irnocel 100mg Injection should not be used during pregnancy because there is clear evidence that it poses harm to the unborn child. However, in some life-threatening instances where the advantages outweigh the hazards, the doctor may prescribe it. Please seek medical advice.
Driving
Irinotecan 100mg Injection can make you drowsy and dizzy by lowering your alertness, affecting your vision, or making you sleepy and dizzy. If you experience any of these symptoms, you should not drive.
Fedelty Health Care is an Irinotecan bulk pharma exporter (Irnocel Exporter) and pharmaceutical third-party manufacturer operating businesses in Venezuela, Saudi Arabia, Cambodia, Oman, Brazil, Lebanon, Chile, Peru, Cuba, and Fiji. Other services they provide are hospital supply, government supply, named patient supply, cold chain supply, and drop shipping.