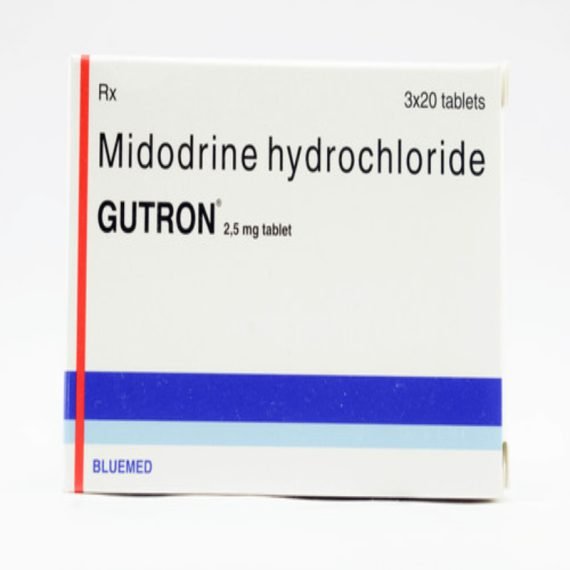 Gutron – Midodrine Hydrochloride 2.5mg Tablet
Description
Midodrine Hydrochloride (Gutron) Tablet – Treatment for Low blood pressure
Midodrine Hydrochloride or Gutron Tablet is a medication that is used to treat low blood pressure (hypotension). It is used in individuals who feel dizziness after rising up rapidly from a sitting or lying posture owing to low blood pressure. This medication makes blood arteries constrict, resulting in an increase in blood pressure. It is possible to take Gutron Tablet with or without meals. This medication is administered during the day when patients are most likely to stand. However, it should not be used if you plan to lie down for an extended period of time following the dose. This drug should be used exactly as prescribed by your doctor, and you should never stop taking it without first visiting your doctor. While using this medication, you should keep track of your blood pressure on a regular basis.
Midodrine Hydrochloride is manufactured by Bluemed Pharma Pvt Ltd.
Fedelty Health Care is a Midodrine Hydrochloride wholesaler, Pharmaceutical Cargo Bulk Exporter & Hospital Supply.
USES OF MIDODRINE HYDROCHLORIDE (GUTRON) 2.5MG TABLET
HOW MIDODRINE HYDROCHLORIDE (GUTRON) 2.5MG TABLET WORKS
Midodrine Hydrochloride is an agonist of the alpha-adrenergic system. It works by causing certain receptors on blood vessels to become active. This causes blood arteries to constrict, raising blood pressure.
Fedelty Health Care is a certified Midodrine Hydrochloride Bulk Pharma Exporter, Cargo Bulk Supplier, and pharmaceutical wholesaler in India.
DIRECTIONS FOR USE
Follow your doctor's instructions on the dosage and duration of this medication. Take it all in at once. It should not be chewed, crushed, or broken. Midodrine Hydrochloride can be taken with or without meals, however, it's best if you take it at the same time every day.
SIDE EFFECTS OF MIDODRINE HYDROCHLORIDE (GUTRON) 2.5MG TABLET
Headache
Nausea
Rash
Difficulty in urination
 WARNING & PRECAUTIONS
Midodrine Hydrochloride may be harmful to a pregnant woman. Animal research has demonstrated negative effects on the growing fetus, despite the lack of human studies. Before prescribing it to you, your doctor will consider the advantages as well as any possible hazards. Please seek medical advice.
Using Midodrine Hydrochloride during nursing is generally not a good idea. The medicine may transfer into breastmilk and damage the newborn, according to limited human research.
Fedelty Health Care is a Midodrine Hydrochloride bulk pharma exporter (Gutron Exporter) and pharmaceutical third-party manufacturer operating businesses in Venezuela, Saudi Arabia, Cambodia, Oman, Brazil, Lebanon, Chile, Peru, Cuba, and Fiji. Other services they provide are hospital supply, government supply, named patient supply, cold chain supply, and drop shipping.