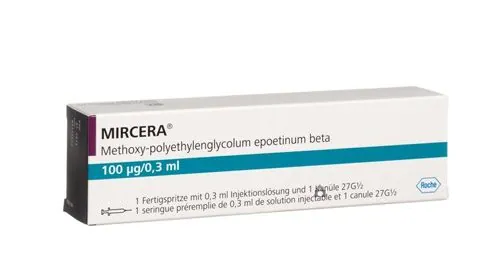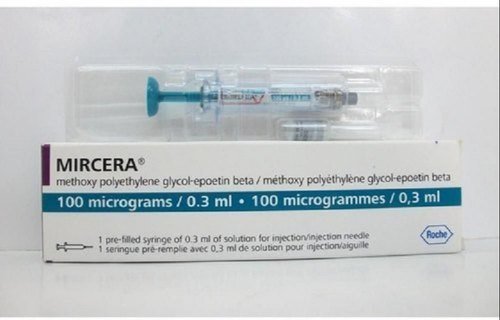 Mircera – Methoxypoiyethylene Glycol- Epoetinbet 100mcg Injection
Methoxypoiyethylene Glycol- Epoetinbet
Roche Products India Pvt Ltd
Description
Description:
Fedelty Health Care operates companies in Venezuela, Saudi Arabia, Cambodia, Oman, Brazil, Lebanon, Chile, Peru, Cuba, and Fiji as Mircera 100mcg Injection third-party manufacturer, online pharmacy dropshipping, major pharma exporter, and pharmaceutical contract manufacturer. Hospital supply, government supply, named patient supply, cold chain supply, and drop shipment are some of the other services they offer.
Mircera 100mcg Injection is used to treat anemia in people with chronic kidney disease (long-term serious kidney disease). It works by stimulating the stem cells of the bone narrow to increase red blood cells production. This way it helps to reverse anemia.
As this injection contains a human-made protein known as 'Epoetin beta', which works by providing signals to the bone marrow to make more red blood cells (RBCs). It helps to reverse anaemia and reduce the need for blood transfusion. Mircera 100mcg Injection is a biologic response modifier and erythropoiesis-stimulating protein. In chronic kidney disease, when the kidney fails to produce sufficient 'erythropoietin protein', which aids in forming red blood cells, Mircera 100mcg Injection stimulates the production of this protein in the bone narrow.
Mircera 100mcg Injection is generally given by a doctor or a nurse. Do not self-administer this medicine at home. The dose depends on your body weight and the severity of your condition. Get the injection regularly until you completed the dose. Iron supplements both before and during treatment may make this treatment more effective.
Uses of Mircera Injection:
Benefits of Mircera Injection:
In Treatment of Anemia due to chronic kidney disease
Anemia is a condition where your body does not have enough red blood cells to carry oxygen around your body. Chronic kidney disease (CKD) refers to the loss of normal kidney function over a long span of time. CKD progresses gradually over a few years but may become permanent if left untreated. CKD can lead to anemia. Mircera 100mcg Injection can boost your levels of red blood cells and reduce the symptoms of anemia such as tiredness and weakness. Taking this medicine improves the quality of life.
Side Effects of Mircera Injection:
Common side effects of Mircera: –
Headache.
Diarrhea.
Body ache.
Vomiting.
How to use Mircera Injection:
Your doctor or nurse will give you this medicine. Kindly do not self administer.
Safety Advice:
Alcohol
It is not known whether it is safe to consume alcohol with Mircera 100mcg Injection. Please consult your doctor.
Pregnancy
Mircera 100mcg Injection may be unsafe to use during pregnancy. Although there are limited studies in humans, animal studies have shown harmful effects on the developing baby. Your doctor will weigh the benefits and any potential risks before prescribing it to you. Please consult your doctor.
Breast feeding
This Injection should be used with caution during breastfeeding. Breastfeeding should be held until the treatment of the mother is completed and the drug is eliminated from her body.
Driving
It is not known whether Mircera 100mcg Injection alters the ability to drive. Do not drive if you experience any symptoms that affect your ability to concentrate and react.
Kidney
There is limited information available on the use of Mircera 100mcg Injection in patients with kidney disease. Please consult your doctor.
Liver
There is limited information available on the use of Mircera 100mcg Injection in patients with liver disease. Please consult your doctor.
What if you forget to take Mircera Injection?
If you miss a dose of Mircera 100mcg Injection, take it as soon as possible. However, if it is almost time for your next dose, skip the missed dose and go back to your regular schedule. Do not double the dose.