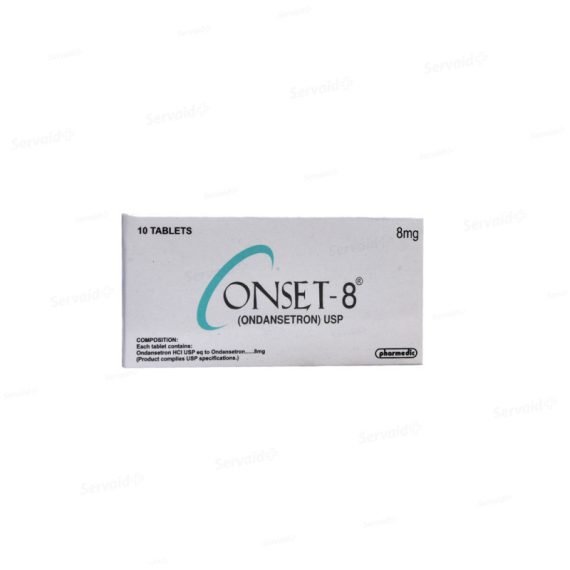 Onsett – Ondansetron Tablet
Cadila Pharmaceuticals Ltd
Description
ONDANSETRON (ONSETT) TABLET – TREATMENT OF NAUSEA
An antiemetic drug called Onsett 8mg Tablet is frequently used to manage nausea and vomiting brought on by disorders including stomach distress. Additionally, it is used to stop nausea and vomiting brought on by radiotherapy, chemotherapy, or any other type of surgery.
Onsett 8mg Tablet can be taken with or without food and can be taken either alone or in combination with other drugs. Depending on what you are taking it for, your doctor will advise you on the optimum dosage. Typically, the first dose is administered prior to the beginning of the operation, the chemotherapy, or the radiotherapy. After these therapies, follow your doctor's instructions for any additional dosages (normally only for a few days at most).
Fedelty Health Care is an Ondansetron wholesaler, Pharmaceutical Cargo Bulk Exporter & Hospital Supply.
USES OF ONDANSETRON (ONSETT) TABLET
Treatment of Nausea
Treatment of Vomiting
WORKS OF ONDANSETRON (ONSETT) TABLET
An antiemetic drug is Onsett 8mg Tablet. It functions by inhibiting the action of serotonin, a brain chemical messenger that can trigger nausea and vomiting following surgery or anti-cancer treatment (chemotherapy).
SIDE EFFECTS OF ONDANSETRON (ONSETT) TABLET
Constipation
Diarrhea
Fatigue
Headache
WARNING & PRECAUTIONS
Normally, Onsett 8mg Tablet has no effect on your ability to drive.
The usage of Onsett 8mg Tablet during pregnancy is usually regarded as safe. There is human research, despite the fact that animal studies on the developing fetus have shown little to no negative consequences.
Fedelty Health Care is an Ondansetron third-party manufacturer, bulk pharma exporter, and pharmaceutical contract manufacturer operating businesses in Venezuela, Saudi Arabia, Cambodia, Oman, Brazil, Lebanon, Chile, Peru, Cuba, and Fiji. Other services they provide are hospital supply, government supply, named patient supply, cold chain supply, and drop shipping.