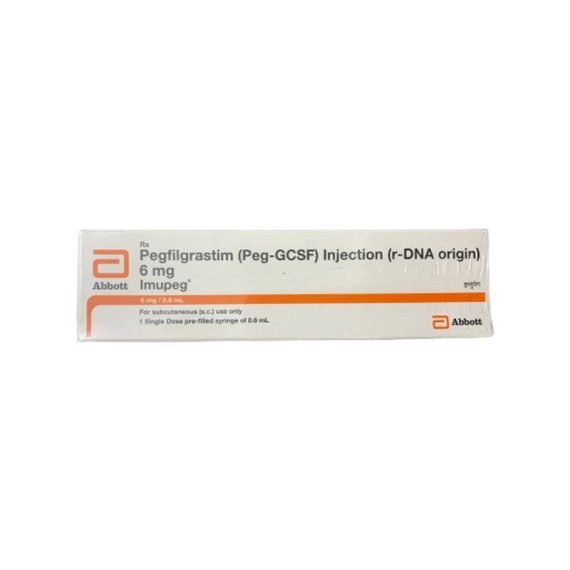 Imupeg – pegfilgrastim 6mg Injection
Description
INTRODUCTION
Imupeg 6mg (Pegfilgrastim) After treatment, injections are used to prevent infections. It's a growth factor that encourages the production of white blood cells in the bone marrow. These cells keep the body safe from pathogens. Imupeg 6mg injection is administered by a trained medical expert. The length of treatment depends on your needs and how well you respond to treatment. While taking this prescription, you may be required to have frequent blood tests to assess the number of blood cells in your blood and your bone density level. Many other drugs can interact with or be affected by this one, so tell your doctor about all of your prescriptions. This medication should not be used during pregnancy or nursing. It is critical for both males and females to utilize effective contraception throughout therapy to avoid conception. If you are dizzy after taking this prescription, avoid driving or doing anything that requires your whole concentration.
USES OF IMUPEG 6MG
Prevention of Infections after chemotherapy
HOW IMUPEG 6MG WORKS
Imupeg 6mg Injection is a growth factor that increases the production of white blood cells in the bone marrow. These cells keep the body safe from pathogens.
DIRECTIONS FOR USE
Your attendant will give you this prescription. Mercifully, don't self-regulate.
SIDE EFFECTS OF IMUPEG 6MG
Bone pain
Joint pain
Headache
Nausea
Low blood platelets
Muscle pain
Back pain
Pain in extremity
Injection site pain
WARNING & PRECAUTIONS
Imupeg 6mg the ability to drive, is unaffected by injection.
On the usage of Imupeg 6mg Injection in individuals with liver disease, there is minimal information. Please seek medical advice.
Patients with renal conditions can safely take Imupeg 6mg Injection. There is no need to alter the dose of Imupeg 6mg Injection.
Imupeg 6mg Using injections when pregnant might be dangerous. Animal research has shown negative effects on the growing fetus, despite the lack of human studies. Before prescribing it to you, your doctor will consider the advantages and any potential hazards. Please seek medical advice.
Imupeg 6mg Injections are most likely safe to use while nursing.