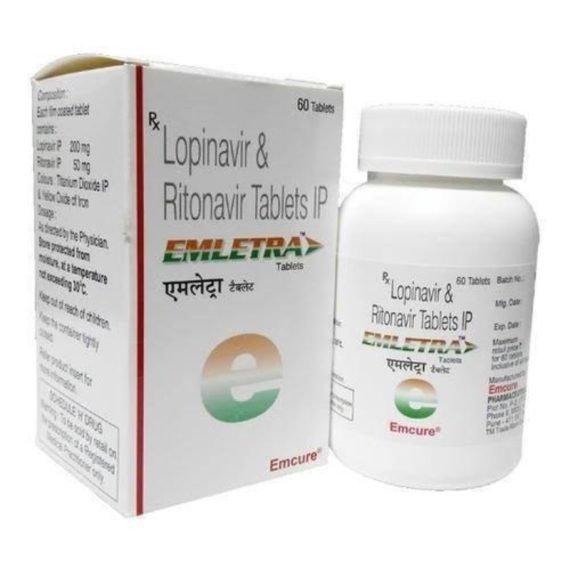 Emletra – Ritonavir & Lopinavir Tablet
Emcure Pharmaceuticals Ltd
Description
LOPINAVIR & RITONAVIR (EMLETRA) TABLET – TREATMENT FOR HIV INFECTION
Ritonavir & Lopinavir or Emletra Tablet is an antiretroviral medication combination. It is given to people who have HIV (human immunodeficiency virus). It boosts immunity to fight HIV in order to manage or treat AIDS (acquired immunodeficiency syndrome).
Emletra Tablet inhibits the growth of HIV in the body and lowers the risk of HIV-related complications, thereby increasing an individual's lifespan. To improve efficacy, the medication should be taken with food. Taking these medications on a regular basis increases their effectiveness. This medication should not be skipped as it may have an impact on your recovery. It is critical to complete the entire course of treatment until your doctor advises you to discontinue it. The potency of the medicine may be harmed if the treatment is abruptly discontinued.
Emletra Tablet inhibits the spread of the HIV virus in your body. It aids in the control of the infection and improves the function of your immune system. This reduces your chances of complications, such as new infections, and improves your overall quality of life.
It is not a cure for HIV or AIDS and should not be used to prevent HIV after unintentional risk exposure. It is critical that you take this medication exactly as prescribed, according to your doctor's instructions. Taking all of your doses in the correct amounts and at the correct times increases the effectiveness of your combination of medications and reduces the likelihood of your HIV infection becoming resistant to antiretroviral medications.
Fedelty Health Care is a Ritonavir & Lopinavir wholesaler, Pharmaceutical Cargo Bulk Exporter & Hospital Supply.
USES OF LOPINAVIR & RITONAVIR (EMLETRA) TABLET
WORKS OF LOPINAVIR & RITONAVIR (EMLETRA) TABLET 
Emletra Tablet is a combination of two anti-HIV medications: ritonavir and lopinavir. They work by interfering with an enzyme (protease) required by HIV-infected cells to produce new viruses. This effectively halts the generation of new viruses.
Fedelty Health Care is India's certified Ritonavir & Lopinavir Bulk Pharma Exporter, Cargo Bulk Supplier, and pharmaceutical wholesaler.
SIDE EFFECTS OF LOPINAVIR & RITONAVIR (EMLETRA) TABLET
The majority of side effects do not necessitate medical attention and will go away as your body adjusts to the medication. Consult your doctor if they persist or if you are concerned.
Headache
Diarrhea
Stomach pain
Taste change
Nausea
Increased liver enzymes
WARNING & PRECAUTIONS
It is unknown whether Emletra Tablet affects driving ability. If you have any symptoms that impair your ability to concentrate or react, do not drive.
Emletra Tablet is probably safe to use in kidney disease patients. Based on the available data, it appears that no dose adjustment of Emletra Tablet is required in these patients. Please consult your physician.
Emletra Tablet may be harmful if taken during pregnancy. Although there have been few human studies, animal studies have revealed harmful effects on the developing baby. Before prescribing it to you, your doctor will consider the benefits as well as any potential risks. Please consult your physician.
In patients with liver disease, Emletra Tablet should be used with caution. Emletra Tablet dosage may need to be adjusted. Please consult your physician.
Fedelty Health Care is an Ritonavir & Lopinavir bulk pharma exporter (Emletra Exporter) and pharmaceutical third-party manufacturer operating businesses in Venezuela, Saudi Arabia, Cambodia, Oman, Brazil, Lebanon, Chile, Peru, Cuba, and Fiji. Hospital supply.