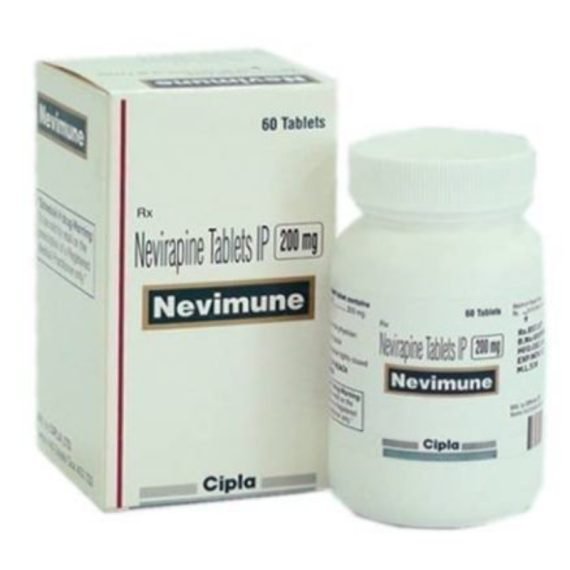 Nevimune – Nevirapine 200mg Tablet
Description
NEVIRAPINE (NEVIMUNE) TABLET – TREATMENT FOR HIV INFECTION
Nevirapine or Nevimune 200mg tablet belongs to a class of drugs known as antiretrovirals. It is used to treat HIV (human immunodeficiency virus), which is the virus that causes AIDS (acquired immunodeficiency syndrome). It aids in the control of HIV infection, allowing your immune system to function more effectively.
Nevimune Tablet prevents the HIV virus from multiplying in your body. This aids in the control of the infection and improves the function of your immune system. It also reduces your risk of complications, such as new infections, and improves your quality of life. This medication is always taken in tandem with other antiretroviral medications. It is not a cure for HIV or AIDS and should not be used to prevent HIV after unintentional risk exposure.
It is critical that you take Nevimune Tablet exactly as directed, according to your doctor's instructions.
Nevimune Tablet lowers your risk of HIV-related complications and extends your life. It is prescribed in conjunction with other HIV medications and can be taken on an empty stomach or with food. Taking all of these medications on a regular basis and at the appropriate times increases their effectiveness and decreases the likelihood of HIV becoming resistant to them. It is critical to continue taking them until your doctor tells you it is safe to stop.
Fedelty Health Care is a Nevirapine wholesaler, Pharmaceutical Cargo Bulk Exporter & Hospital Supply.
USES OF NEVIRAPINE (NEVIMUNE) 200MG TABLET
WORKS OF NEVIRAPINE (NEVIMUNE) 200MG TABLET
Nevimune 200mg Tablet prevents the HIV virus from multiplying in human cells, preventing the virus from producing new viruses.
Fedelty Health Care is a certified Nevirapine Bulk Pharma Exporter, Cargo Bulk Supplier, and pharmaceutical wholesaler in India.
SIDE EFFECTS OF NEVIRAPINE (NEVIMUNE) 200MG TABLET
The majority of side effects are minor and will go away as your body adjusts to the medication. If they don't go away or you're concerned about them, see your doctor.
Headache
Vomiting
Abdominal pain
Fever
Fatigue
Diarrhea
Increased liver enzymes
WARNING & PRECAUTIONS
Using Nevimune 200mg tablet during pregnancy is extremely dangerous. Seek medical counsel, as research on pregnant women and animals has shown that some foods can harm the growing baby.
When taking Nevimune 200mg Tablet, use caution when drinking alcohol. Please get advice from a physician.
Patients with kidney illness should use Nevimune 200mg tablet with caution. Nevimune 200mg Tablet dosage may need to be adjusted. Please seek medical advice. While using this medication, you should get your kidney function tested on a regular basis.
Fedelty Health Care is a Nevirapine bulk pharma exporter (Nevimune Exporter) and pharmaceutical third-party manufacturer operating businesses in Venezuela, Saudi Arabia, Cambodia, Oman, Brazil, Lebanon, Chile, Peru, Cuba, and Fiji. Hospital supply.