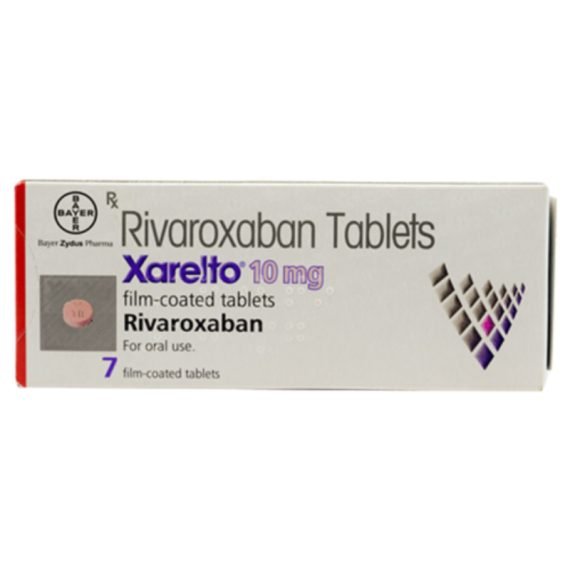 Xarelto – Rivaroxaban 10mg Tablet
Description
Rivaroxaban (Xarelto) Tablet – Prevention Of Blood Clots
Rivaroxaban or Xarelto Tablet is an anticoagulant (blood thinner) medication. It aids in the prevention and treatment of blood clots. It's used to lower the chances of a stroke or heart attack. It works to prevent and cure blood clots in the legs, lungs, brain, and heart. Rivaroxaban is often used to prevent clot formation in people with an abnormal heart rhythm (atrial fibrillation). It also lowers the risk of clots in patients who have had knee or hip replacement surgery. It should be taken with meals, and it's ideal if you do it at the same time every day. In certain situations, you may need to take this prescription for a long time, potentially for the rest of your life. Without consulting your doctor, do not stop taking it or adjust the dose. It can quickly increase your risk of a heart attack, stroke, or thrombosis (formation of a blood clot within a blood vessel). You may lower your chance of a blood clot by changing your lifestyle, such as quitting smoking, eating a nutritious diet, exercising regularly, and decreasing weight if necessary.
Rivaroxaban is manufactured by Bayer, which is a global pharmaceutical and life sciences corporation headquartered in Germany. It is one of the world's major pharmaceutical firms.
Fedelty Health Care is a Rivaroxaban wholesaler, Pharmaceutical Cargo Bulk Exporter & Hospital Supply.
USES OF RIVAROXABAN (XARELTO) 10MG TABLET
Treatment and prevention of Blood clots
 HOW RIVAROXABAN (XARELTO) 10MG TABLET WORKS
The anticoagulant Rivaroxaban is a new oral anticoagulant (NOAC). It works by preventing blood clots from forming in the body.
Fedelty Health Care is a certified Rivaroxaban Bulk Pharma Exporter, Cargo Bulk Supplier, and pharmaceutical wholesaler in India.
DIRECTIONS FOR USE
Follow your doctor's instructions on the dosage and duration of this medication. Take it all in at once. It should not be chewed, crushed, or broken. It is recommended that you take Rivaroxaban with meals.
SIDE EFFECTS OF RIVAROXABAN (XARELTO) 10MG TABLET
 WARNING & PRECAUTIONS
In people with renal illness, Rivaroxaban should be taken with care. It's possible that you'll need to alter your Xarelto tablet dosage. Please seek medical advice. Patients with severe renal conditions should avoid using Xarelto Tablet.
In people with liver problems, Rivaroxaban or Xarelto Tablet is probably hazardous to use and should be avoided. Please seek medical advice.
It's possible that using Rivaroxaban while pregnant is dangerous. Animal research has demonstrated negative effects on the growing fetus, despite the lack of human studies. Before prescribing it to you, your doctor will consider the advantages as well as any possible hazards. Please seek medical advice.
Using Rivaroxaban with nursing is generally not a good idea. The medicine may transfer into breastmilk and damage the newborn, according to limited human research.
Fedelty Health Care is a Rivaroxaban bulk pharma exporter (Xarelto Exporter) and pharmaceutical third-party manufacturer operating businesses in Venezuela, Saudi Arabia, Cambodia, Oman, Brazil, Lebanon, Chile, Peru, Cuba, and Fiji. Other services they provide are hospital supply, government supply, named patient supply, cold chain supply, and drop shipping.