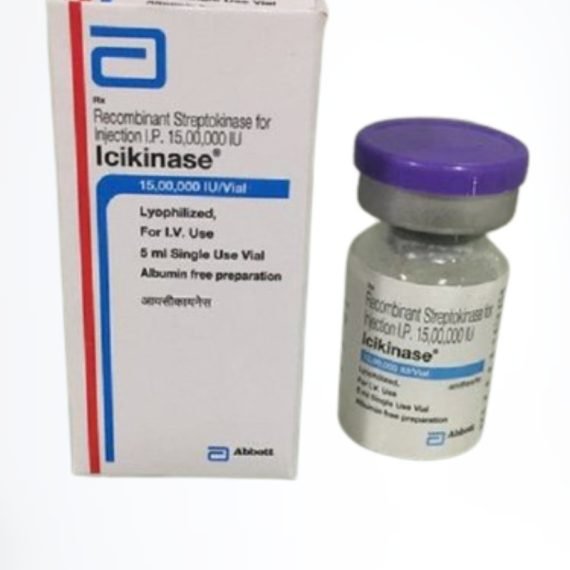 Icikinase – Streptokinase 1500000IU Injection
Description
Icikinase – Treatment for Heart Attack & Pulmonary Embolism
Icikinase 1500000IU (Streptokinase) Injection is a drug that is used to dissolve dangerous blood clots that have developed in blood arteries. It is used to treat those who have just had a heart attack. It's also used to treat pulmonary embolism and stroke. Icikinase 1500000IU Injection is only given under medical supervision. Your doctor will choose the medicine's dosage and duration for you. Your condition may be closely monitored by your doctor until you reach a point of stability. This medication can induce bleeding at the injection site, nausea, an allergic response, and drop-in blood pressure. It may also raise your chances of bleeding. Before you take this drug, your doctor will go over the advantages and disadvantages with you. Even after this injection, continue to take all the other medications that your doctor has prescribed for your long-term therapy.
Fedelty Health Care is Icikinase Contract Manufacturer, Pharmaceutical Cargo Bulk Exporter & Hospital Supply.
USES OF ICIKINASE 1500000IU
Heart attack
Pulmonary embolism
HOW ICIKINASE 1500000IU WORKS
Icikinase 1500000IU Injection dissolves dangerous blood clots in the blood arteries. This improves results by restoring blood supply to the afflicted tissue, preventing tissue death.
Fedelty Health Care is a certified Icikinase Bulk Pharma Exporter, Cargo Bulk Supplier, and pharmaceutical wholesaler in India.
DIRECTIONS FOR USE
Your specialist will give you this prescription. Kindly do not self-administer.
SIDE EFFECTS OF ICIKINASE 1500000IU
Allergic reaction
Nausea
Injection site bleeding
Decrease in blood pressure
WARNING & PRECAUTIONS
In individuals with renal problems, Icikinase 1500000IUInjection is probably safe to use. Based on the limited information provided, a dosage change of Icikinase 1500000IU Injection may not be necessary for these individuals. Please seek medical advice. In individuals with severe renal disease, using Icikinase 1500000IU Injection is not suggested.
In individuals with severe liver disease, Icikinase 1500000IU Injection should be administered as care. Icikinase 1500000IU Injection dosage may need to be adjusted. Please seek medical advice.
Icikinase 1500000IU Using injections when pregnant might be dangerous. Animal research has shown negative effects on the growing fetus, despite the lack of human studies. Before prescribing it to you, your doctor will consider the advantages and any hazards. Please seek medical advice.
Fedelty Health Care is an Icikinase bulk pharma exporter (Icikinase Exporter) and pharmaceutical third-party manufacturer operating businesses in Venezuela, Saudi Arabia, Cambodia, Oman, Brazil, Lebanon, Chile, Peru, Cuba, and Fiji. Other services they provide are hospital supply, government supply, named patient supply, cold chain supply, and drop shipping.