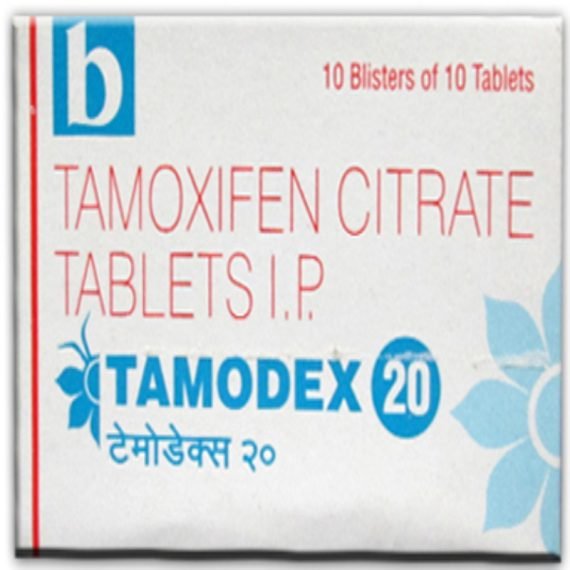 Tamodex – Tamoxifen Citrate Tablet
Description
Tamoxifen Citrate (Tamodex) Tablet – Treatment for Breast Cancer
Tamoxifen Citrate or Tamodex Tablet has anti-estrogen properties. It's a drug that's used to treat breast cancer. Tamodex Tablet is available in two strengths: 10mg and 20mg. It's also used to lower the risk of breast cancer in high-risk pre-and postmenopausal women. This medication aids in the slowing of cancer cell development and multiplication. Tamodex 10mg Tablet can also aid with infertility. It may be taken with or without meals, but it's best if you take it all at once. It should be treated as medical advice. What you take it for determines the dose and how often you take it. Your doctor will determine how much improvement is required. With a sip of water, swallow the pills whole. This medication is typically used for a period of 10 to 15 years. This drug should be used for as long as it is suggested for you.
Tamoxifen Citrate is manufactured by Biochem Pharmaceuticals Industries Limited, which is manufacturing, producing, or processing pharmaceuticals in pharmaceutical formulations for human or veterinary use are all part of this line of business.
Fedelty Health Care is a Tamoxifen Citrate wholesaler, Pharmaceutical Cargo Bulk Exporter & Hospital Supply.
USES OF TAMOXIFEN CITRATE (TAMODEX) 10MG/20MG TABLET
HOW TAMOXIFEN CITRATE (TAMODEX) 10MG/20MG TABLET WORKS
Tamoxifen Citrate is a hormone replacement therapy. It acts by attaching to estrogen receptors in the breast tissue and suppressing the effects of estrogen (a natural female hormone). Breast cancer cells' development and multiplication are slowed as a result of this.
Fedelty Health Care is a certified Tamoxifen Citrate Bulk Pharma Exporter, Cargo Bulk Supplier, and pharmaceutical wholesaler in India.
DIRECTIONS FOR USE
Follow your doctor's instructions on the dosage and duration of this medication. Take it all in at once. It should not be chewed, crushed, or broken. Tamoxifen Citrate can be taken with or without meals, however, it's best if you take it at the same time every day.
SIDE EFFECTS OF TAMOXIFEN CITRATE (TAMODEX) 10MG/20MG TABLET
Hot flashes
Nausea
Vaginal discharge
Vaginal bleeding
Mood swings
Fluid retention
 

WARNING & PRECAUTIONS
Tamoxifen Citrate may induce negative effects that impair your driving abilities. Tamodex Tablet might make you fatigued. This might have an impact on your driving skills.
Patients with renal conditions should generally avoid using Tamoxifen Citrate. Based on the limited information provided, a dosage change of Tamodex Tablet may not be necessary for these individuals. Please seek medical advice.
Taking Tamoxifen Citrate when pregnant is extremely dangerous. Seek medical counsel, since research on pregnant women and animals has indicated that there are considerable risks to the growing infant.
It's usually not a good idea to take Tamoxifen Citrate if you're nursing. The medicine may transfer into breastmilk and damage the newborn, according to limited human research.
Fedelty Health Care is a Tamoxifen Citrate bulk pharma exporter (Tamodex Exporter) and pharmaceutical third-party manufacturer operating businesses in Venezuela, Saudi Arabia, Cambodia, Oman, Brazil, Lebanon, Chile, Peru, Cuba, and Fiji. Other services they provide are hospital supply, government supply, named patient supply, cold chain supply, and drop shipping.