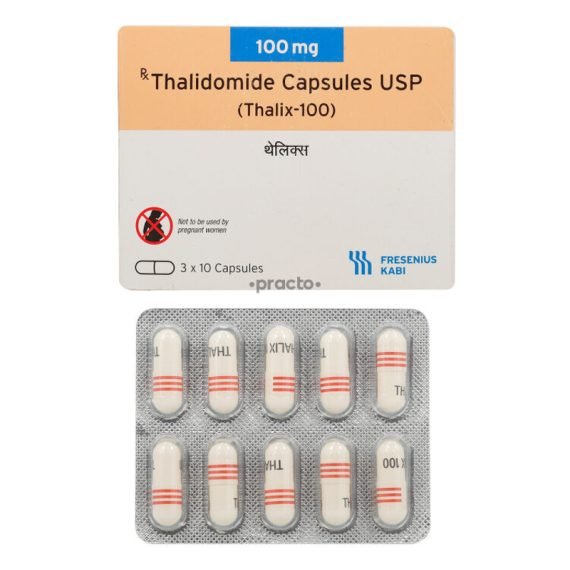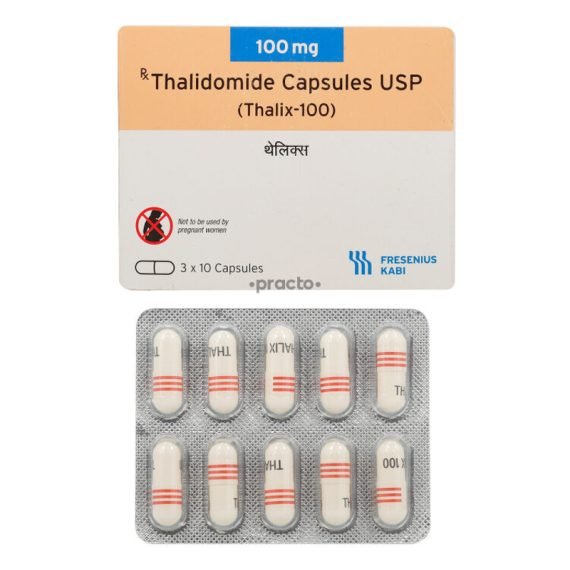 Thalix – Thalidomide Capsule
Fresenius Kabi India Pvt Ltd
Description
THALIDOMIDE (THALIX) CAPSULE – TREATMENT FOR MULTIPLE MYELOMA
The Thalix capsule is used to treat lepra reaction and multiple myeloma. This medication is a member of a class of drugs that modify how your immune system functions.
To reap the greatest advantages, take Thalix Capsule on an empty stomach at the same time each day. Your doctor will determine the appropriate dosage and frequency of administration for you. This is based on the condition you are being treated for and is subject to change. You should follow your doctor's instructions in the letter.
Fedelty Health Care is a Thalidomide wholesaler, Pharmaceutical Cargo Bulk Exporter & Hospital Supply.
USES OF THALIDOMIDE (THALIX) CAPSULE
Multiple myeloma
Lepra reaction
WORKS OF THALIDOMIDE (THALIX) CAPSULE
The Thalix capsule controls the immune system's function, which assists in indirectly combating cancer cells. Additionally, it prevents cancer's blood vessel proliferation.
SIDE EFFECTS OF THALIDOMIDE (THALIX) CAPSULE
Nausea
Vomiting
Weakness
Fatigue
Hair loss
Low blood platelets
Increased liver enzymes
Fever
Anemia (low number of red blood cells)
Bleeding
Constipation
WARNING & PRECAUTIONS
The negative effects of taking Thalix capsules may impair your ability to drive.
When taking Thalix Capsule, you can suffer adverse effects such as drowsiness, fatigue, or impaired vision, which could impair your ability to drive.
It is extremely dangerous to take Thalix capsules when pregnant. Consult your doctor before taking any medications, as research on animals and pregnant women has demonstrated clear negative effects on the developing fetus.
Fedelty Health Care is a
 third-party manufacturer, bulk pharma exporter, and pharmaceutical contract manufacturer operating businesses in Venezuela, Saudi Arabia, Cambodia, Oman, Brazil, Lebanon, Chile, Peru, Cuba, and Fiji. Other services they provide are hospital supply, government supply, named patient supply, cold chain supply, and drop shipping.