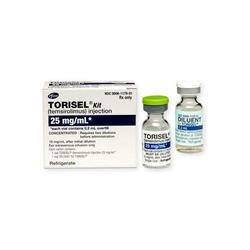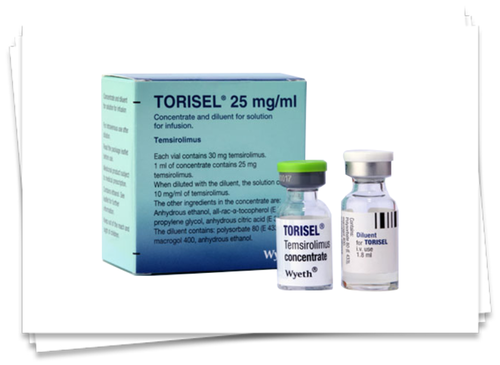 Torisel – Temsirolimus 25mg Injection
Description
Description:
Fedelty Health Care operates companies in Venezuela, Saudi Arabia, Cambodia, Oman, Brazil, Lebanon, Chile, Peru, Cuba, and Fiji as a Torisel 25mg Injection third-party manufacturer, major pharma exporter, and pharmaceutical contract manufacturer. Hospital supply, government supply, named patient supply, cold chain supply, and drop shipment are some of the other services they offer.
Torisel 25mg Injection is an anticancer medicine which is used in the treatment of a type of kidney cancer. This Injection is one of the medications used to prevent or inhibit the growth of tumors in the kidney. It is administered in the form of an injection. This medicine is not recommended for use in children and adolescents.
This drug is contraindicated in patients with high bilirubin levels. If you are using this medication, your blood cell counts will be regularly assessed as this drug could potentially impact your blood cell counts too. This medication has been found to have serious adverse effects in the clinical trials. Torisel Kit is a prescription medicine that must be administered by a healthcare professional. You must receive the exact dose of it as per the prescription. An overdose of this medicine may have serious side effects on the body.
It is recommended to infuse around 25mg of the medicine over 30 or 60 minutes, once a week. This treatment will be continued till the patient's condition worsens or till toxicity occurs.
Uses of Torisel 25mg Injection:
Kidney Cancer
Mantle-cell lymphoma
Benefits of Torisel 25mg Injection:
In Treatment of Kidney cancer
Torisel Kit is used to treat kidney cancer and its associated symptoms such as blood in the urine, unexplained low back pain or weight loss, fatigue, loss of appetite, etc. It stops cancer growth and prevents multiplication of cancer cells. This restricts the advancement of cancer to other unaffected regions. You need to follow your doctor's instructions very carefully to recover.
In Treatment of Mantle-cell lymphoma
Mantle-cell lymphoma is a cancer of the white blood cells in our body, also called non-Hodgkin's lymphoma. White blood cells are those cells that help us to fight infections. Torisel Kit helps to restrict cancer growth and also blocks the action of other chemicals that are required for cancer growth and further spread. Avoid being in crowds and wash your hands often to prevent any infections. Have plenty of fluids, unless otherwise advised by the doctor not to.
Side effects of Torisel 25mg Injection:
Major & minor side effects for Torisel 25mg Injection: –
Hypersensitivity
Infections
Anemia
Increased cholesterol and triglycerides
Increase in blood glucose level
Increase in liver enzyme levels
Low potassium
Nosebleed
Trouble sleeping
Acne
Diarrhea
Nausea and vomiting
Loss of appetite
How Torisel 25mg Injection works:
Torisel Kit is a kinase inhibitor. It shows its action by blocking the action of the abnormal protein that causes the multiplication of cancer cells. This may help slow the growth of tumors.
Safety Advice:
Alcohol
It is not known whether it is safe to consume alcohol with Torisel Kit. Please consult your doctor.
Pregnancy
Torisel Kit is unsafe to use during pregnancy as there is definite evidence of risk to the developing baby. However, the doctor may rarely prescribe it in some life-threatening situations if the benefits are more than the potential risks. Please consult your doctor.
Breast feeding
Torisel Kit is probably unsafe to use during breastfeeding. Limited human data suggests that the drug may pass into the breastmilk and harm the baby.
Driving
Torisel Kit does not usually affect your ability to drive.
Kidney
Torisel Kit is safe to use in patients with kidney disease. No dose adjustment of Torisel Kit is recommended.
Liver
Torisel Kit should be used with caution in patients with liver disease. Dose adjustment of Torisel Kit may be needed. Please consult your doctor.
Use of Torisel Kit is not advised in some patients with moderate to severe liver disease.