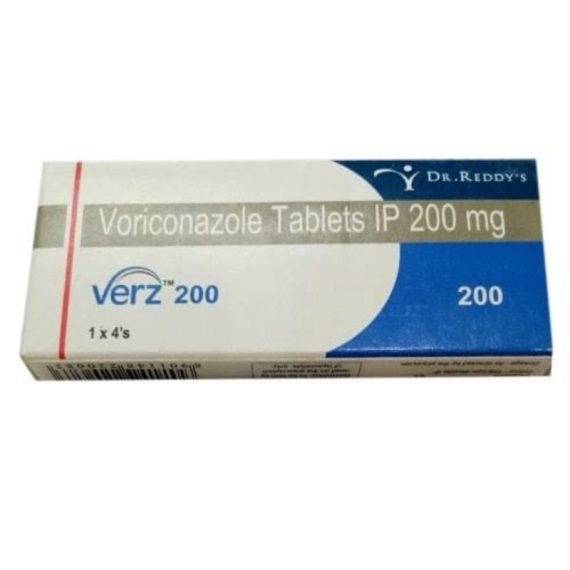 Verz – Voriconazole 200mg Tablet
Description
VORICONAZOLE (VERZ) TABLET – TREATMENT FOR SEVERE FUNGAL INFECTIONS
Voriconazole or Verz 200mg Tablet is an antifungal medication. It works by preventing fungus development and is used to treat a variety of fungal illnesses. It kills fungi by damaging the cell membrane of the fungal cell.
The Verz 200mg Tablet kills the fungus that can cause serious diseases. It normally makes you feel better fast, but even if you feel better, you should keep taking it as directed to ensure that all of the fungus and yeast causing the illness are eliminated and do not develop resistance.
Verz 200mg Tablet should be taken according to your doctor's instructions for dosage and duration. It should be completely swallowed. It's best to take it an hour before or after a meal. The amount and duration of medication will be determined by the ailment being treated. This can happen in cycles of usage and non-use. Take this medicine at regular intervals to obtain the maximum effect, and keep taking it until your prescription is finished, even if your symptoms go away after a few days. If you stop therapy too soon, the infection may come back, and if you miss doses, you risk developing illnesses that are resistant to treatment.
Fedelty Health Care is a Voriconazole wholesaler, Pharmaceutical Cargo Bulk Exporter & Hospital Supply.
USES OF VORICONAZOLE (VERZ) TABLET
WORKS OF VORICONAZOLE (VERZ) TABLET 
Antifungal medicine Verz 200mg Tablet. It treats your skin infection by killing and stopping the fungus's growth by damaging its cell membrane.
Fedelty Health Care is India's certified Voriconazole Bulk Pharma Exporter, Cargo Bulk Supplier, and pharmaceutical wholesaler.
SIDE EFFECTS OF VORICONAZOLE (VERZ) TABLET
The majority of side effects do not necessitate medical attention and will go away as your body adjusts to the medication. Consult your doctor if they persist or if you are concerned.
Fatigue
Anemia
Nausea
Headache
WARNING & PRECAUTIONS
Verz 200mg Tablet may induce negative effects that impair your driving ability.
Verz 200mg Tablet may produce blurred vision or an unpleasant sensitivity to light, which could affect your driving ability.
In people with kidney problems, Verz 200mg Tablet is safe to take. There is no need to modify the dosage of Verz 200mg Tablet.
Verz 200mg Tablet should not be used during pregnancy because there is clear evidence that it poses harm to the unborn child. However, in some life-threatening instances where the advantages outweigh the hazards, the doctor may prescribe it. Please seek medical advice.
Fedelty Health Care is a Voriconazole bulk pharma exporter (Verz Exporter) and a pharmaceutical third-party manufacturer operating businesses in Venezuela, Saudi Arabia, Cambodia, Oman, Brazil, Lebanon, Chile, Peru, Cuba, and Fiji. Hospital supply.