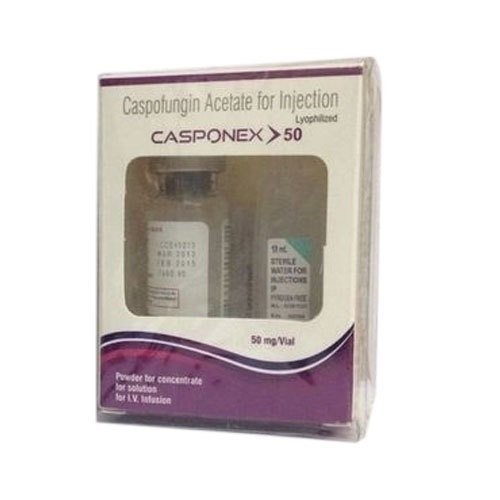 Casponex – Caspofungin 70mg Injection
Bharat Serums & Vaccines Ltd
Description
Description:
Fedelty Health Care operates companies in Venezuela, Saudi Arabia, Cambodia, Oman, Brazil, Lebanon, Chile, Peru, Cuba, and Fiji as Casponex 70mg Injection third-party manufacturer, online pharmacy dropshipping, major pharma exporter, and pharmaceutical contract manufacturer. Hospital supply, government supply, named patient supply, cold chain supply, and drop shipment are some of the other services they offer.
Casponex 70mg Injection is an antifungal medication. It is used in the treatment of severe fungal infections. It kills the fungi that cause these infections and thus provides relief. Casponex 70mg Injection is administered as an injection by a healthcare professional. Kindly do not self-administer. Do not skip any doses and finish the full course of treatment even if you feel better. Your doctor may monitor your liver function regularly during treatment.
Casponex 70mg Injection may lead to a few common side effects like rash, decreased potassium level in the blood, fever, increased liver enzymes, chills, and diarrhea. You may also notice some injection site reactions like pain, swelling, or redness. Inform your doctor if these side effects persist for a longer duration. Please consult your doctor if you are pregnant, planning to conceive, or breastfeeding.
Uses of Casponex Injection:
Severe fungal infections.
Benefits of Casponex Injection:
In Severe fungal infections
Casponex 70mg Injection works by killing the fungi which can cause serious infections. It is given by a doctor or nurse and should not be self-administered. It usually makes you feel better very quickly but you should continue taking it as prescribed even when you feel better to make sure that all the fungi and yeast causing the infection are killed and do not become resistant.
Side Effects of Casponex Injection:
Most side effects do not require any medical attention and disappear as your body adjusts to the medicine. Consult your doctor if they persist or if you're worried about them.
Common side effects of Casponex: –
Chills.
Decreased potassium level in blood.
Diarrhea.
Fever.
Increased alkaline phosphatase level in blood.
Increased liver enzymes.
Rash.
How to use Casponex Injection:
Your doctor or nurse will give you this medicine. Kindly do not self administer.
How Casponex Injection works:
Casponex 70mg Injection kills fungus by preventing them from making their protective covering.
Safety Advice:
Alcohol
It is not known whether it is safe to consume alcohol with Casponex 70mg Injection. Please consult experts before taking any dose.
Pregnancy
Casponex 70mg Injection may be unsafe to use during pregnancy. Although there are limited studies in humans, animal studies have shown harmful effects on the developing baby. Your doctor will weigh the benefits and any potential risks before prescribing it to you.
Breast feeding
Casponex 70mg Injection is probably safe to use during breastfeeding. Limited human data suggests that the drug does not represent any significant risk to the baby.
Driving
It is not known whether Casponex 70mg Injection alters the ability to drive. Do not drive if you experience any symptoms that affect your ability to concentrate and react.
Kidney
Casponex 70mg Injection is safe to use in patients with kidney disease. No dose adjustment of the injection is recommended.
Liver
Casponex 70mg Injection should be used with caution in patients with liver disease. Dose adjustment of this injection may be needed. Please consult your doctor. Limited information is available on the use of Casponex 70mg Injection in patients with the severe liver disease.
What if you forget to take Casponex Injection?
If you miss a dose of Casponex 70mg Injection, please consult your doctor.