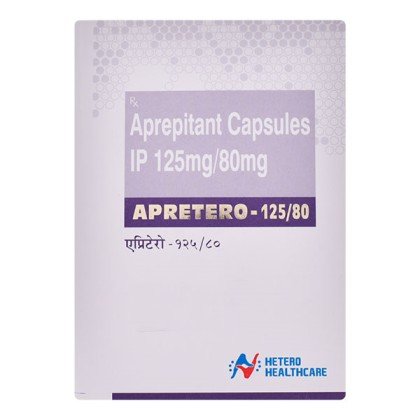 Apretero – Aprepitant Capsule
Description
APREPITANT (APRETERO) CAPSULE – TREATMENT FOR NAUSEA AND VOMITING DUE TO CHEMOTHERAPY
Apretero 125/80 Kit is a prescription medicine used in the treatment of nausea or vomiting experienced as a side effect of chemotherapy or anti-cancer treatment. It inhibits the signal to reach the brain which causes the feeling of nausea or vomiting.
Apretero 125/80 Kit is taken with or without meals in a dose and duration as suggested by the doctor. The dose you are given will depend on your condition and how you respond to the medicine.
USES OF APREPITANT (APRETERO) CAPSULE
Nausea and vomiting due to chemotherapy
WORKS OF APREPITANT (APRETERO) CAPSULE
The Apretero 125/80 Kit combines two different Aprepitant doses. It works by blocking the action of a chemical messenger in the brain that may cause nausea and vomiting during treatment with anti-cancer medicines.
SIDE EFFECTS OF APREPITANT (APRETERO) CAPSULE
Constipation
Indigestion
Headache
Tiredness
Loss of appetite
Hiccup
Increased liver enzymes
WARNING & PRECAUTIONS
Apretero 125/80 Kit may impair vision, reduce alertness, or cause you to feel drowsy and lightheaded.
There is no information available on using the Apretero 125/80 Kit while pregnant. Please speak with your physician.
Fedelty Health Care is an Aprepitant third-party manufacturer, bulk pharma exporter, and pharmaceutical contract manufacturer operating businesses in Venezuela, Saudi Arabia, Cambodia, Oman, Brazil, Lebanon, Chile, Peru, Cuba, and Fiji. Other services they provide are hospital supply, government supply, named patient supply, cold chain supply, and drop shipping.