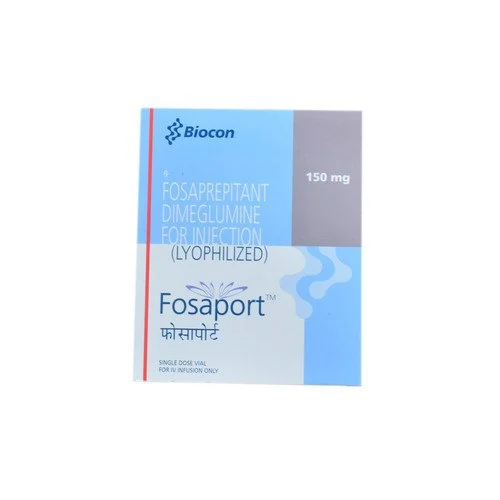 Fosaport – Fosaprepitant 150mg Injection
Description
Description:
Fedelty Health Care operates companies in Venezuela, Saudi Arabia, Cambodia, Oman, Brazil, Lebanon, Chile, Peru, Cuba, and Fiji as Fosaport 150mg Injection third-party manufacturer, online pharmacy dropshipping, major pharma exporter, and pharmaceutical contract manufacturer. Hospital supply, government supply, named patient supply, cold chain supply, and drop shipment are some of the other services they offer.
Fosaport 150mg Injection is a prescription medicine used to prevent nausea and vomiting caused by chemotherapy.
Fosaport 150mg Injection is given under the supervision of healthcare professional. Moreover, it is better to take it at a fixed time and you should not stop taking this medication suddenly without talking to your doctor. In case you have missed a dose than it is better to take it as soon as you remember it and finish the full course of treatment even if you feel better. Your doctor may advice for regular monitoring of liver function test while taking this medicine.
It has side effects like fatigue, headache, loss of appetite, constipation and hiccups. Dizziness and sleepiness may also occur as a side effect, so do not drive or do anything that requires mental focus until you know how this medicine affects you.
Uses of Fosaport Injection
Nausea and vomiting due to chemotherapy
Benefits of Fosaport Injection
Nausea and vomiting due to chemotherapy
Fosaport 150mg Injection blocks the action of chemicals in the body that can make you feel or be sick. It is often used to prevent nausea and vomiting that may be caused due to some medicines or cancer treatment. This medicine helps you recover more comfortably from cancer treatments such as radiation therapy or chemotherapy. It is also effective at preventing nausea and vomiting after an operation (in adults only). It is given as an injection by a doctor and should not be self-administered.
Side effects of Fosaport Injection
Most side effects do not require any medical attention and disappear as your body adjusts to the medicine. Consult your doctor if they persist or if you're worried about them
Common side effects of Fosaport: –
Headache.
Hiccup.
Indigestion.
Fatigue.
Decreased appetite.
Constipation.
How to use Fosaport Injection:
Your doctor or nurse will give you this medicine. Kindly do not self administer.
How Fosaport Injection works:
Fosaport 150mg Injection is an antiemetic medication. It works by blocking the action of a chemical messenger (neurokinin) in the brain that may cause nausea and vomiting during anti-cancer treatment (chemotherapy).
Safety Advice:
Alcohol
It is unsafe to consume alcohol with Fosaport 150mg Injection.
Pregnancy
Fosaport 150mg Injection is generally considered safe to use during pregnancy. Animal studies have shown low or no adverse effects to the developing baby; however, there are limited human studies.
Breast feeding
Fosaport 150mg Injection is probably unsafe to use during breastfeeding. Limited human data suggests that the drug may pass into the breastmilk and harm the baby.
Driving
Fosaport 150mg Injection may decrease alertness, affect your vision or make you feel sleepy and dizzy. Do not drive if these symptoms occur.
Kidney
Fosaport 150mg Injection is safe to use in patients with kidney disease. No dose adjustment of Fosaport 150mg Injection is recommended.
Liver
Fosaport 150mg Injection should be used with caution in patients with severe liver disease. Dose adjustment of Fosaport 150mg Injection may be needed. No dose adjustment is recommended in patients with moderate to severe liver disease.