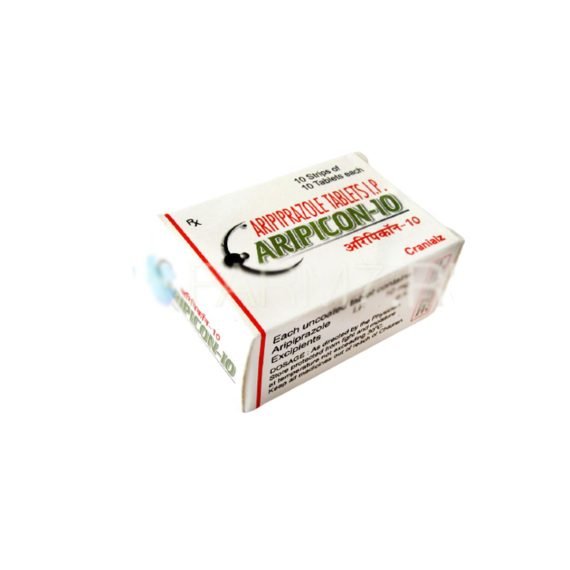 Aripicon – Aripiprazole Tablet
Description
ARIPIPRAZOLE (ARIPICON) TABLET – TREATMENT FOR SCHIZOPHRENIA
An antipsychotic drug is aripiprazole 10mg Tablet. It is used to treat insanity and schizophrenia (a psychological condition that can cause fantasies or nightmares that negatively affect a person's ability to think and behave). It can also be used to treat bipolar disorder and sadness.
How Aripiprazole 10mg Tablet  is used?
To maintain a consistent level of medication in the body, Aripiprazole 10mg Tablet is advised to demand some investment each day. Your primary care physician will determine the dosage and frequency you require so that you receive the best supplement to manage your symptoms. It might be developed gradually. It could take up to a month before you start to feel much better. Regardless of whether you feel much better, try to take all of the prescribed dosages and complete the entire course of treatment. It's crucial to avoid stopping this medicine abruptly without first speaking to your doctor because doing so could worsen your symptoms.
Common Side effects of This Tablet.
The common side effects of this medicine include migraine, weakness, nausea, heaviness, and blurred vision. Additionally, it makes you drowsy and lethargic, so avoid driving or engaging in any activity that needs mental focus until you understand how this medicine affects you.
Precautions:
Your glucose and cholesterol levels could rise as a result of this treatment. However, altering your lifestyle by following a healthy food plan and exercising regularly can lessen this outcome. Throughout the course of your treatment with this prescription, your PCP will check your blood sugar and cholesterol levels. If you experience any unexpected changes in behavior or mood, fresh or destructive melancholy, or self-destructive thoughts while taking this medication, inform your primary care physician.