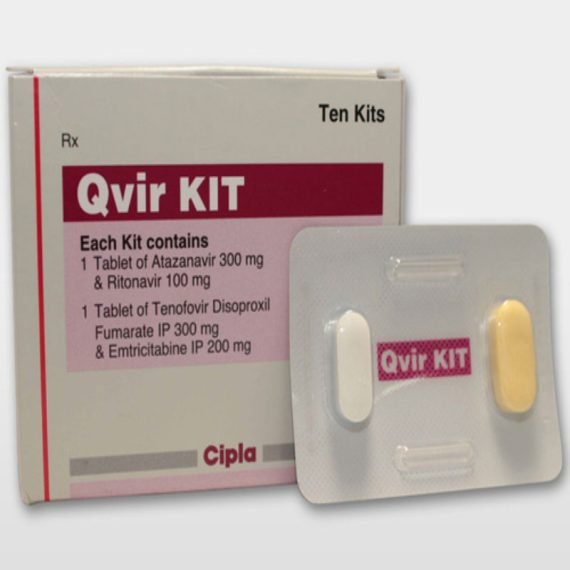 Qvir e-kit – Atazanavir & Ritonavir Tablet
Description
ATAZANAVIR & RITONAVIR (QVIR E-KIT) TABLET – TREATMENT FOR HIV INFECTION
Atazanavir & Ritonavir or Qvir e-kit is an antiretroviral medication combination. It is given to people who have HIV (human immunodeficiency virus). It boosts immunity to fight HIV in order to manage or treat AIDS (acquired immunodeficiency syndrome).
Qvir Kit keeps HIV at bay by preventing the virus from multiplying in the body. It also improves the function of your immune system and may reduce your risk of developing HIV-related illnesses such as AIDS. This guarantees that you will live a long and healthy life. To get the most out of your medication, avoid skipping doses and carefully follow your doctor's instructions. Using the Qvir Kit, as well as practicing safer sex and making other lifestyle changes, may reduce the risk of transmitting the HIV virus to others.
Qvir Kit inhibits the growth of HIV in the body and lowers the risk of HIV-related complications, thereby increasing an individual's lifespan. The medication must be taken with food. Taking these medications on a regular basis increases their effectiveness. This medication should not be skipped as it may have an impact on your recovery. It is critical to complete the entire course of treatment until your doctor advises you to discontinue it. The potency of the medicine may be harmed if the treatment is abruptly discontinued.
Fedelty Health Care is an Atazanavir & Ritonavir wholesaler, Pharmaceutical Cargo Bulk Exporter & Hospital Supply.
USES OF ATAZANAVIR & RITONAVIR (QVIR E-KIT) TABLET
Treatment of HIV infection
WORKS OF ATAZANAVIR & RITONAVIR (QVIR E-KIT) TABLET 
Qvir Kit contains four antiviral medications: tenofovir disoproxil fumarate, emtricitabine, atazanavir, and ritonavir. Tenofovir disoproxil fumarate and Emtricitabine work by preventing HIV (virus) replication and thus lowering the amount of virus in your body. They also raise the number of CD4 cells (white blood cells that fight infection) in your blood. Atazanavir and Ritonavir work by interfering with an enzyme (protease) that HIV-infected cells need to produce new viruses.
Fedelty Health Care is India's certified Atazanavir & Ritonavir Bulk Pharma Exporter, Cargo Bulk Supplier, and pharmaceutical wholesaler.
SIDE EFFECTS OF ATAZANAVIR & RITONAVIR (QVIR E-KIT) TABLET
The majority of side effects are minor and will subside as your body adapts to the medication. Consult your doctor if they don't go away or if you're concerned about them.
Diarrhea
Headache
Skin rash
Nausea
Vomiting
Depression
Taste change
WARNING & PRECAUTIONS
In patients with liver problems, Qvir e-kit should be used with caution. Qvir e-kit dosage might need to be adjusted. Please get advice from a physician.
It is unknown whether drinking alcohol while taking Qvir e-kit is safe. Please seek medical advice.
Atazanavir & Ritonavir or Qvir e-kit is a drug that is used to treat a variety of ailments. Tablets should not be used during pregnancy because there is clear evidence that they pose a risk to the unborn child. However, if the advantages outweigh the hazards, the doctor may prescribe it in life-threatening conditions. Please get advice from a physician
Fedelty Health Care is an Atazanavir & Ritonavir bulk pharma exporter (Qvir e-kit Exporter) and pharmaceutical third-party manufacturer operating businesses in Venezuela, Saudi Arabia, Cambodia, Oman, Brazil, Lebanon, Chile, Peru, Cuba, and Fiji. Hospital supply,