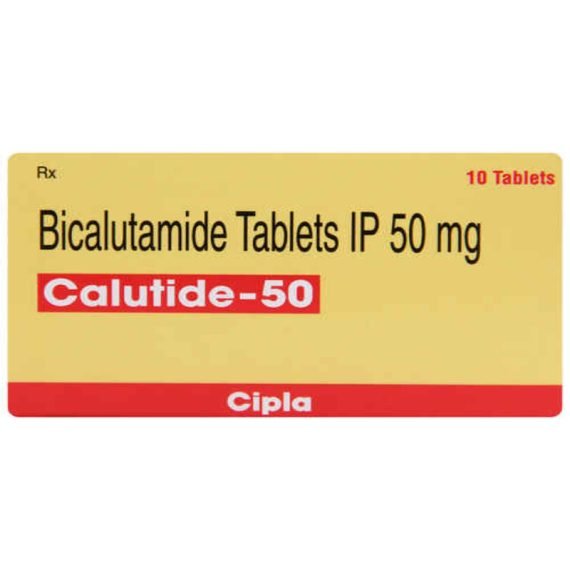 Calutide – Bicalutamide 50mg Tablet
Description
BICALUTAMIDE (CALUTIDE) TABLET – TREATMENT FOR PROSTATE CANCER
Bicalutamide or Calutide 50mg Tablet is a drug that is used to treat prostate cancer. It could also be used to treat other problems if the doctor thinks it's necessary. It works by preventing the effects of testosterone and other male hormones.
In males, the prostate gland is a small walnut-sized gland that generates seminal fluid, which nourishes and transports sperm. The most common symptom of prostate cancer is trouble urinating, however, it can also occur without any symptoms. Calutide 50mg Tablet inhibits or stops the growth of cancer cells in men by lowering testosterone levels (a natural hormone in guys). This also makes it easier to urinate by easing the difficulties in passing urine.
Calutide 50mg Tablet can be taken with or without food and should be taken at the same time each day. Your doctor will determine the appropriate dose and frequency of administration. This will vary depending on the reason you're being treated and may change over time. You should follow your doctor's instructions in the letter. It can have potentially dangerous negative effects if taken incorrectly or in excess.
Fedelty Health Care is a Bicalutamide wholesaler, Pharmaceutical Cargo Bulk Exporter & Hospital Supply.
USES OF BICALUTAMIDE (CALUTIDE) 50MG TABLET
WORKS OF BICALUTAMIDE (CALUTIDE) 50MG TABLET 
Calutide 50mg Tablet inhibits the growth of prostate cells by blocking the effects of natural male hormones. Calutide 50mg Tablet also prevents androgen-related side effects in women, such as excessive hair growth and acne.
Fedelty Health Care is India's certified Bicalutamide Bulk Pharma Exporter, Cargo Bulk Supplier, and pharmaceutical wholesaler.
SIDE EFFECTS OF BICALUTAMIDE (CALUTIDE) 50MG TABLET
The majority of side effects are minor and will go away as your body adjusts to the medication. If they don't go away or you're concerned about them, see your doctor.
Abdominal pain
Rash
Anemia
Decreased libido
Depression
Flatulence
Breast tenderness
Dizziness
WARNING & PRECAUTIONS
Bicalutamide or Calutide 50mg  Tablet is a drug that is used to treat a variety of ailments. Injections should not be used during pregnancy because there is clear evidence that they pose a risk to the unborn child. However, if the advantages outweigh the hazards, the doctor may prescribe it in life-threatening conditions. Please get advice from a physician
In patients with liver problems, Calutide 50mg tablet should be used with caution. Calutide 50mg tablet dosage might need to be adjusted. Please get advice from a physician.
It is unknown whether drinking alcohol while taking Calutide 50mg tablet is safe. Please seek medical advice.
Fedelty Health Care is a Bicalutamide bulk pharma exporter (Calutide Exporter) and pharmaceutical third-party manufacturer operating businesses in Venezuela, Saudi Arabia, Cambodia, Oman, Brazil, Lebanon, Chile, Peru, Cuba, and Fiji. Hospital supply.