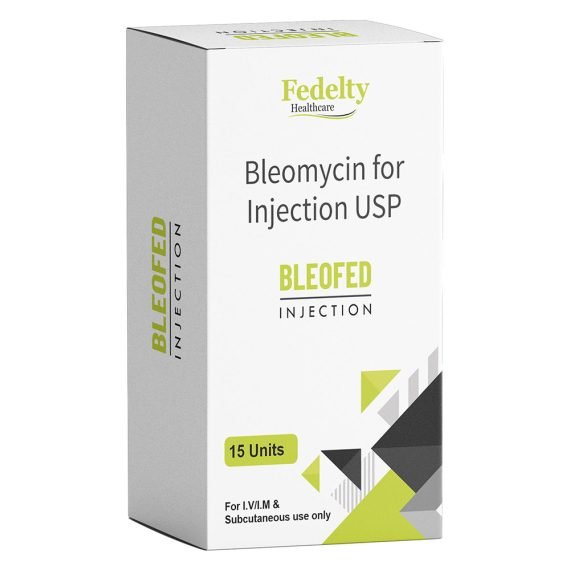 Bleofed – Bleomycin Injection
Description
BLEOMYCIN (BLEOFED) INJECTION – TREATMENT FOR MULTIPLE CANCER
Bleofed 15IU Injection is a medication used to treat cancer in a number of different locations on the body, including the larynx, esophagus, skin, nasopharynx, and paranasal sinuses. It functions by obstructing the growth of cancer cells, which are ultimately eliminated.
Bleofed 15 IU In combination therapy, the injection can be used both on its own and with additional medications. It should not be self-administered and is administered under the direction of a healthcare expert. The appropriate dosage and frequency of administration will be determined by your doctor. This will depend on the condition you are being treated for and might alter occasionally.
USES OF BLEOMYCIN (BLEOFED) INJECTION
Cervical cancer
Cancer of mouth, nasopharynx and paranasal sinuses, larynx, esophagus
Skin cancer
WORKS OF BLEOMYCIN (BLEOFED) INJECTION
An anti-cancer drug is Bleofed Injection. It functions by causing genetic (DNA) damage to cancer cells, which halts their development and division.
SIDE EFFECTS OF BLEOMYCIN (BLEOFED) INJECTION
Fever
Hair loss
Interstitial pneumonia
Loss of appetite
Low blood platelets
Nail discoloration
Nausea
Pulmonary fibrosis
Rigors
Scratch dermatitis
Skin pigmentation
Stomatitis (Inflammation of the mouth)
Vomiting
Weight loss
WARNING & PRECAUTIONS
The negative effects of Bleofed 15IU Injection may impair your ability to operate a motor vehicle.
Similar to the name, few people have mentioned feeling weak or tired following the therapy, so it could impair your ability to drive.
Patients with kidney illness should use Bleofed 15IU Injection with caution. Bleofed 15IU Injection dosage may need to be changed. Please speak with your physician.
The usage of Bleofed 15IU Injection in patients with liver disease is probably safe. The limited information that is currently available suggests that these patients may not require a dose adjustment of Bleofed 15IU Injection. Please speak with your physician.