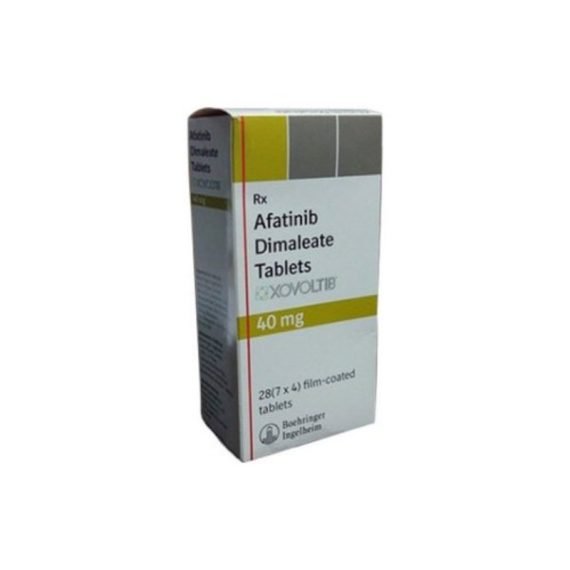 Xovoltib – Afatinib Dimaleate Tablet
Description
Afatinib Dimaleate (Xovoltib) Tablet – Treatment for Non-small cell lung cancer
The non-small cell lung cancer drug Afatinib Dimaleate or Xovoltib Tablet is used to treat the disease. Xovoltib Tablet is available in two strengths: 30mg and 40mg. It is used to treat adult individuals who have specific epidermal growth factor receptor mutations. Xovoltib Tablet should be taken on an empty stomach, although it's best if you take it at the same time every day. Your doctor will determine the appropriate dose and frequency of administration. This can vary depending on the reason you're being treated and may alter over time. You should follow your doctor's instructions in the letter. It can have potentially dangerous negative effects if taken incorrectly or in excess. You may not see or feel the advantages for several weeks or months, but do not stop taking it until your doctor advises you to.
Afatinib Dimaleate is manufactured by Boehringer Ingelheim, which is a multinational conglomerate with a varied range of cultures and communities.
Fedelty Health Care is an Afatinib Dimaleate wholesaler, Pharmaceutical Cargo Bulk Exporter & Hospital Supply.
USES OF AFATINIB DIMALEATE (XOVOLTIB) 30MG/40MG TABLET
Non-small cell lung cancer
HOW AFATINIB DIMALEATE (XOVOLTIB) 30MG/40MG TABLET WORKS
Afatinib Dimaleate is a cancer-fighting drug. It acts by attaching to and blocking the enzyme receptors that control cancer cell development (EGFR, HER2, and HER4). As a result, signaling pathways are being downregulated. This is how cancer may be stopped or slowed.
Fedelty Health Care is a certified Afatinib Dimaleate Bulk Pharma Exporter, Cargo Bulk Supplier, and pharmaceutical wholesaler in India.
DIRECTIONS FOR USE
Follow your doctor's instructions on the dosage and duration of this medication. Take it all in at once. It should not be chewed, crushed, or broken. The Afatinib Dimaleate should be taken without food.
SIDE EFFECTS OF AFATINIB DIMALEATE (XOVOLTIB) 30MG/40MG TABLET
Diarrhea
Rash
Dry skin
Nausea
Vomiting
Loss of appetite
Itching
Stomatitis (Inflammation of the mouth)
Nail disorder
 

WARNING & PRECAUTIONS
If you have any symptoms that impair your ability to focus or respond, don't drive.
Afatinib Dimaleate should not be used during pregnancy since there is clear evidence that it poses a risk to the growing infant. However, in some life-threatening instances where the advantages outweigh the hazards, the doctor may prescribe it. Please seek medical advice.
Using Xovoltib Tablet during nursing is generally not a good idea. The medicine may transfer into breastmilk and damage the newborn, according to limited human research.
Fedelty Health Care is an Afatinib Dimaleate bulk pharma exporter (Xovoltib Exporter) and pharmaceutical third-party manufacturer operating businesses in Venezuela, Saudi Arabia, Cambodia, Oman, Brazil, Lebanon, Chile, Peru, Cuba, and Fiji. Other services they provide are hospital supply, government supply, named patient supply, cold chain supply, and drop shipping.