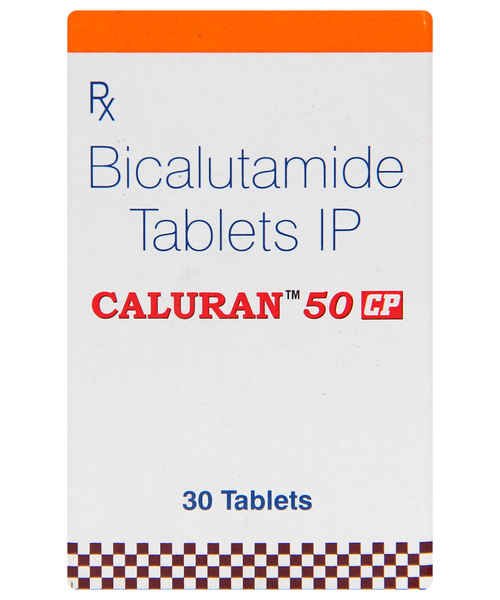 Calutran – Bicalutamide 50mg Tablet
Description
Description:
Fedelty Health Care operates companies in Venezuela, Saudi Arabia, Cambodia, Oman, Brazil, Lebanon, Chile, Peru, Cuba, and Fiji as Calutran 50mg CP Tablet third-party manufacturer, major pharma exporter, and pharmaceutical contract manufacturer. Hospital supply, government supply, named patient supply, cold chain supply, and drop shipment are some of the other services they offer.
Caluran 50 CP Tablet is used in the treatment of cancer of the prostate gland. This tablet contains Bicalutamide which belongs to the group of medicines called non-steroidal anti-androgens. It may be also used to treat other conditions, as determined by the doctor. It works by blocking the effects of male hormones such as testosterone. This medicine is intended for use only in men. Bicalutamide might have an effect on male fertility which could be reversible.
It is indicated for the treatment of metastatic prostate carcinoma (stage D2) either alone or in combination with luteinizing hormone-releasing hormone (LHRH) analogs. Metastatic prostate carcinoma is the cancer of prostate gland, where the tumor growth has spread to different parts of the body.
Caluran 50 CP Tablet should be taken with or without food, preferably at a fixed time every day. Your doctor will decide what dose is necessary and how often you need to take it. This will depend on what you are being treated for and may change from time to time. You should take it exactly as your doctor has advised. Taking it in the wrong way or taking too much can cause very serious side effects. It may take several weeks or months for you to see or feel the benefits but do not stop taking it unless your doctor tells you to.
Uses of Caluran 50 CP Tablet:
Benefits of Caluran 50 CP Tablet:
In Prostate cancer
Prostate gland is a small walnut-sized gland that produces a fluid called seminal fluid that nourishes and transports sperms in males. The most common symptom of prostate cancer is difficulty with urination, but sometimes there are no symptoms at all. Caluran 50 CP Tablet decreases or stops the growth of cancer cells by decreasing the amount of testosterone (natural hormone in males) in men. This also relieves difficulty in passing urine and makes it easier for you to urinate.
Side Effect of Caluran Tablet:
Common side effects of Caluran: –
Anemia (low number of red blood cells).
Rash.
Abdominal pain.
Breast enlargement in male.
Breast tenderness.
Constipation.
Decreased appetite.
Decreased libido.
Dizziness.
Depression.
Flatulence.
Indigestion.
Hot flashes.
Increased liver enzymes.
Sleepiness.
Nausea.
Weakness.
Weight gain.
Safety Advice:
Alcohol
It is not known whether it is safe to consume alcohol with Caluran Tablet.
Pregnancy
This Tablet is highly unsafe to use during pregnancy. Seek your doctor's advice as studies on pregnant women and animals have shown significant harmful effects to the developing baby.
Breast feeding
Information regarding the use of Caluran 50mg CP Tablet during breastfeeding is not available. Please consult your doctor.
Driving
This Tablet does not usually affect your ability to drive.
Kidney
Caluran 50 CP Tablet is safe to use in patients with kidney disease. No dose adjustment of this tablet is recommended.
Liver
Caluran 50 CP Tablet should be used with caution in patients with liver disease. Dose adjustment of Caluran 50 CP Tablet may be needed. Please consult your doctor.
Regular monitoring of liver function tests is advisable while you are taking this medicine.