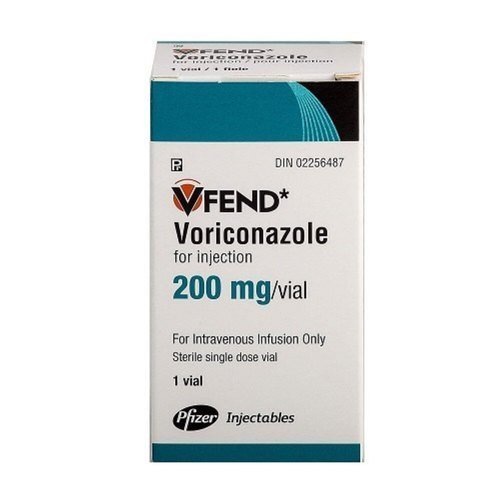 Vfend – Voriconazole 200mg Injection
Description
Description:
Fedelty Health Care operates companies in Venezuela, Saudi Arabia, Cambodia, Oman, Brazil, Lebanon, Chile, Peru, Cuba, and Fiji as a Vfend 200mg Injection third-party manufacturer, major pharma exporter, and pharmaceutical contract manufacturer. Hospital supply, government supply, named patient supply, cold chain supply, and drop shipment are some of the other services they offer.
Vfend 200mg Injection belongs to a group of medicines called antifungals. It works by stopping the growth of fungus and is used to treat a wide range of fungal infections. It kills fungi by destroying the fungal cell membrane.
This Injection contains 'Voriconazole' that kills or prevents fungi or yeast by inhibiting an enzyme in fungi responsible for its normal fat metabolism, which interferes with the fungal cell membrane's formation. As a result, fungal or yeast cells get killed or their growth is minimized.
Vfend 200mg Injection is administered under the supervision of a doctor or a nurse. Do not self-administer the injection. To get the most benefit, get the injection at evenly spaced times and continue taking it until your prescription is finished, even if your symptoms disappear after a few days. If you stop treatment too early, the infection may return and if you miss doses you can increase your risk of infections that are resistant to further treatment.
Uses of Vfend Injection:
Severe fungal infections.
Benefits of Vfend Injection:
In Severe fungal infections
Vfend 200mg Injection works by killing the fungi which can cause serious infections. It usually makes you feel better very quickly but you should continue taking it as prescribed even when you feel better to make sure that all the fungi and yeast causing the infection are killed and do not become resistant.
Side Effects of Vfend Injection:
Most side effects do not require any medical attention and disappear as your body adjusts to the medicine. Consult your doctor if they persist or if you're worried about them
Common side effects of Vfend: – 
Nausea.
Rash.
Vomiting.
Tierdness.
Altered vision.
Slow heart rate.
Hallucination.
Abnormal liver function tests.
Safety Advise:
Alcohol
It is unsafe to consume alcohol with Vfend 200mg Injection.
Pregnancy
200mg Vfend Injections should not be used during pregnancy because there is clear evidence that they pose a risk to the growing foetus. However, in some life-threatening instances where the advantages outweigh the hazards, the doctor may prescribe it. Please seek medical advice.
Breast feeding
Vfend 200mg Injection is probably unsafe to use during breastfeeding. Limited human data suggests that the drug may pass into the breastmilk and harm the baby.
Driving
Vfend 200mg Injections may cause side effects that impair your driving ability. This injection may cause blurred vision or an uncomfortable sensitivity to light, which could impair your driving ability.
Kidney
Vfend 200mg Injection is safe to use in patients with kidney disease. No dose adjustment of Vfend 200mg Injection is recommended.
Liver
Vfend 200mg Injection should be used with caution in patients with liver disease. Dose adjustment of Vfend 200mg Injection may be needed. Please consult your doctor.
Regular monitoring of liver function tests is advised while you are taking this medicine.