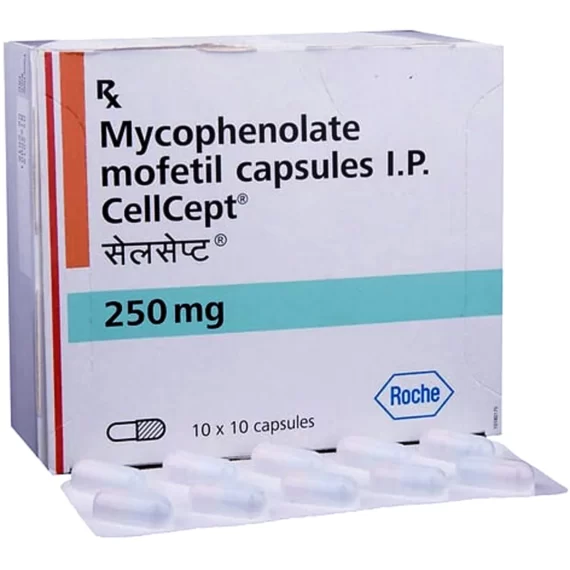 Cellcept – Mycophenolate Mofetil 250mg Capsule
Roche Products India Pvt Ltd
Description
Description:
Fedelty Health Care operates companies in Venezuela, Saudi Arabia, Cambodia, Oman, Brazil, Lebanon, Chile, Peru, Cuba, and Fiji as Cellcept 250mg Capsule third-party manufacturer, online pharmacy dropshipping, major pharma exporter, and pharmaceutical contract manufacturer. Hospital supply, government supply, named patient supply, cold chain supply, and drop shipment are some of the other services they offer.
Cellcept 250mg Capsule belongs to a group of medicines called immunosuppressants. It contains 'Mycophenolate mofetil' and is used in the treatment of organ transplant rejection along with another immunosuppressant and anti-inflammatory agent. It inhibits T and B lymphocytes (a type of white blood cells that attack foreign cells) and suppresses the production of antibodies (identify and kill foreign cells). These effects suppress the immune system so that the transplanted graft is not rejected.
The amount of Cellcept 250mg Capsule you take and how often you take it depends on the type of transplant you have. Follow your doctor's instructions on this. You should take it on an empty stomach, at least 1 hour before or 2 hours after a meal. Swallow it as a whole, do not crush, chew, or break it. Take the medicine regularly to get maximum benefit and keep taking it even when you feel well. The treatment will continue for as long as you need it to prevent rejection.
Uses of Cellcept Capsule:
Benefits of Cellcept Capsule:
In Prevention of organ rejection in transplant patients
Cellcept 250mg Capsule belongs to a group of medicines known as immunosuppressive agents. It lowers your immune response and reduces the chance of your body attacking the transplanted organ. Organ rejection happens when your immune system treats the new organ as an invader and attacks it. This medicine may be used in combination with other medicines to suppress the immune system and help your body accept the new organ.
Side Effects of Cellcept Capsule:
Common side effects of Cellcept: –
Nausea.
Vomiting.
Diarrhea.
Abdominal pain.
Headache.
High blood pressure.
Decreased white blood cell count (neutrophils).
Safety Advice:
Consuming alcohol with Cellcept 250mg Capsule does not cause any harmful side effects.
Cellcept 250mg Capsule is unsafe to use during pregnancy as there is definite evidence of risk to the developing baby. However, the doctor may rarely prescribe it in some life-threatening situations if the benefits are more than the potential risks. Please consult your doctor.
It is declared as unsafe to use during breastfeeding. Data suggests that the drug may cause toxicity to the baby.
Cellcept 250mg Capsule does not usually affect your ability to drive.
Cellcept 250mg Capsule is probably safe to use in patients with kidney disease. Limited data available suggests that dose adjustment of this capsule may not be needed in these patients. Please consult your doctor.
There is limited information available on the use of Cellcept 250mg Capsule in patients with liver disease. Please consult your doctor.