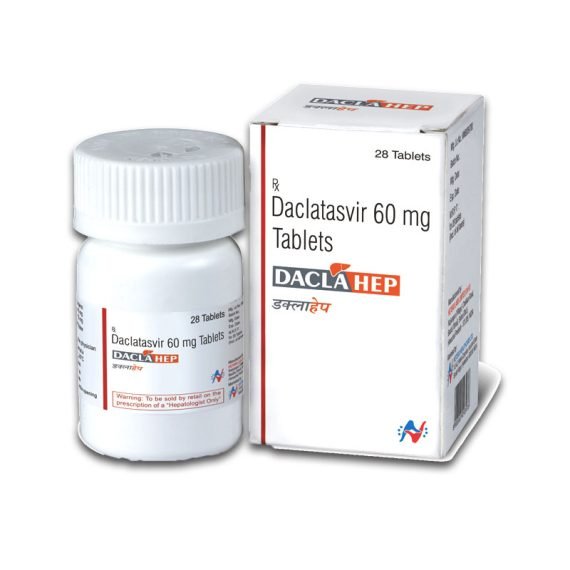 Daclahep – Daclatasvir Dihydrochloride 60mg
Daclatasvir Dihydrochloride
Description
INTRODUCTION
Antiviral drug Daclahep (Daclatasvir Dihydrochloride 60mg) Tablet. It's utilized in blend with different medications to treat persistent hepatitis C infection (HCV) contamination. Daclahep Tablet should be taken according to your doctor's instructions for dosage and duration. It should be taken with or without meals, and at a regular interval. Regardless of whether you feel good, don't miss any portions and complete the entire course of treatment. Assuming you neglect to take a dose, do as such straight away. Nonetheless, assuming your next measurement is drawing nearer, exclude the missing portion and return to your typical timetable. Do not take two doses.
Hetero, a worldwide pharmaceutical company specializing in the research, production, and commercialization of active pharmaceutical ingredients, intermediate compounds, and finished doses, manufactures Daclahep Tablet.
USES OF DACLAHEP
Chronic hepatitis C virus (HCV) infection treatment
HOW DACLAHEP WORKS
Antiviral medicine Daclahep 60mg Tablet. It works by lessening how much the hepatitis C infection is in the body and disposing of it from the blood over the long haul.
DIRECTIONS FOR USE
Adhere to your primary care physician's guidelines on the measurement and span of this prescription. Take it all in at once. It should not be bitten, squished, or shattered in any way. Daclahep Tablet can be taken with or without meals, however, it's best if you take it at the same time every day.
SIDE EFFECTS OF DACLAHEP
Headache
Fatigue
Nausea
Insomnia
Anemia
WARNING & PRECAUTIONS
It is unknown whether Daclahep Tablet affects driving abilities. Assuming you have any side effects that hinder your capacity to concentrate or react, don't drive.
In people with liver disorders, Daclahep Tablet is safe to use. There is no need to alter the dose of Daclahep Tablet.
Patients with renal problems can safely use Daclahep Tablet. There is no need to alter the dose of Daclahep Tablet.
It's possible that using Daclahep Tablet while pregnant is dangerous. Animal research has demonstrated negative effects on the growing fetus, despite the lack of human studies. Prior to endorsing it to you, your primary care physician will think about the benefits just as any potential perils. Please seek medical advice.
Daclahep Tablet is likely to be safe to take when nursing. Based on limited human evidence, the medicine appears to pose no major harm to the fetus.