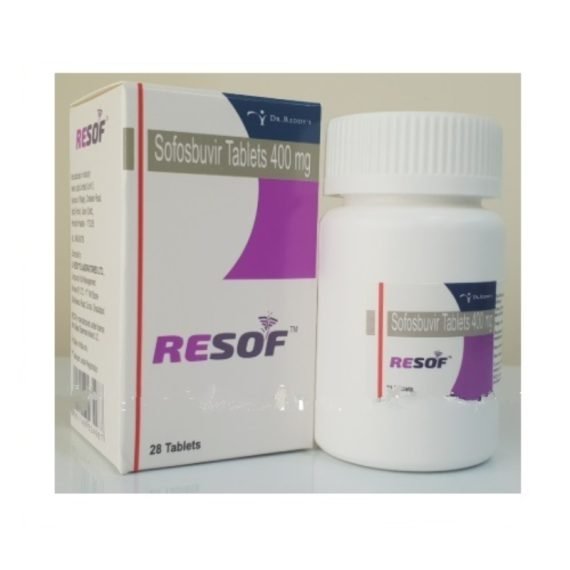 Resof – Sofosbuvir 400mg Tablet
Description
SOFOSBUVIR (RESOF) TABLET – TREATMENT FOR CHRONIC HEPATITIS C VIRUS
Sofosbuvir or Resof 400mg Tablet is a virus-fighting drug. It is used to treat chronic hepatitis C virus (HCV) infection in combination with other drugs. It works by decreasing the amount of the hepatitis C virus in the body and eliminating it from the blood over time.
The HCV virus is prevented from replicating in your body by Resof 400mg Tablet. It aids in the control of infection and improves the immune system's performance. This reduces your risk of problems and enhances your overall quality of life. This medication is always given with other antiretroviral medications. It is not a cure for HCV infection and should not be used to prevent it. It is critical that you take this medication exactly as directed by your doctor, including the dosage. The effectiveness of the medicine is substantially enhanced when all doses are taken in the correct amounts and at the correct times.
Your doctor will tell you how much and how long to take Resof 400mg Tablet. Even if you feel better, do not miss any doses and complete the entire treatment term. It's best if you take it with food and at a certain time. If you miss a dose, make sure you get it as soon as you can. If your next dose is approaching, skip the missing dose and resume your regular routine. Do not take more than the recommended amount.
Fedelty Health Care is a Sofosbuvir wholesaler, Pharmaceutical Cargo Bulk Exporter & Hospital Supply.
USES OF SOFOSBUVIR (RESOF) TABLET
Chronic hepatitis C virus (HCV) infection
WORKS OF SOFOSBUVIR (RESOF) TABLET 
Antiviral medicine Resof 400mg Tablet. It works by reducing the amount of the hepatitis C virus in the body and eliminating it from the blood over time.
Fedelty Health Care is India's certified Sofosbuvir Bulk Pharma Exporter, Cargo Bulk Supplier, and pharmaceutical wholesaler.
SIDE EFFECTS OF SOFOSBUVIR (RESOF) TABLET
The majority of side effects do not necessitate medical attention and will go away as your body adjusts to the medication. Consult your doctor if they persist or if you are concerned.
Fatigue
Anemia
Nausea
Headache
WARNING & PRECAUTIONS
Resof 400mg Tablet may induce negative effects that impair your driving ability.
When taken with other drugs for the treatment of hepatitis c infection, Resof 400mg Tablet might cause dizziness and blurred vision, which can impair your ability to drive.
In patients with severe kidney disease, Resof 400mg Tablet should be taken with caution. Resof 400mg Tablet dosage may need to be adjusted. Please seek medical advice.
There is limited data on the use of Resof 400mg Tablet in these individuals. In patients with mild to moderate kidney disease, no dose adjustments are indicated.
The usage of Resof 400mg Tablet during pregnancy is usually regarded as safe. Animal research has demonstrated that there are little or no negative effects on the growing fetus; however, human studies are sparse.
Fedelty Health Care is a Sofosbuvir bulk pharma exporter (Resof Exporter) and a pharmaceutical third-party manufacturer operating businesses in Venezuela, Saudi Arabia, Cambodia, Oman, Brazil, Lebanon, Chile, Peru, Cuba, and Fiji. Hospital supply