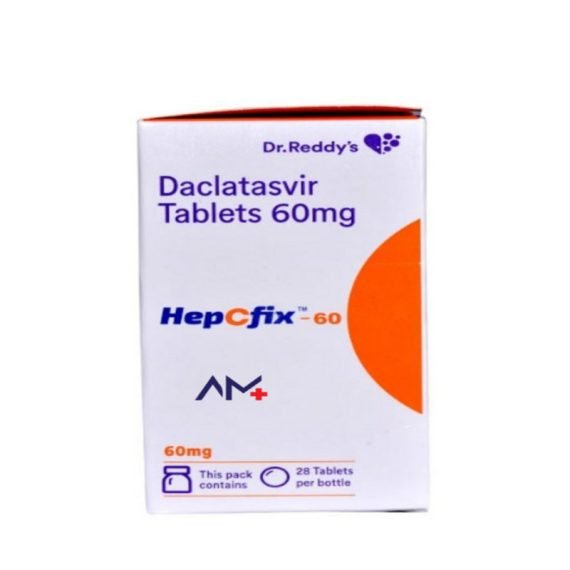 Hepcfix – Daclatasvir 60mg Tablet
Description
DACLATASVIR (HEPCFIX) TABLET – TREATMENT FOR CHRONIC HEPATITIS C VIRUS INFECTION
Daclatasvir or Hepcfix 60mg Tablet is an antiviral medication. For the treatment of chronic hepatitis C virus (HCV) infection, it is combined with other drugs.
The HCV virus is prevented from replicating in your body by the Hepcfix 60mg Tablet. It aids in the control of infection and improves the immune system's performance. This reduces your risk of problems and enhances your overall quality of life. This medication is always given with other antiretroviral medications. It is not a cure for HCV infection and should not be used to prevent it. You must take this medication exactly as directed by your doctor, including the dosage. The effectiveness of the medicine is substantially enhanced when all doses are taken in the correct amounts and at the correct times
Your doctor will tell you how much and how long to take Hepcfix 60mg Tablet. It should be taken with or without food and at a regular interval. Even if you feel better, do not miss any doses and complete the treatment period. If you miss a dose, make sure you get it as soon as you can. If your next dose is approaching, skip the missing dose and resume your regular routine. Do not take more than the recommended amount.
Fedelty Health Care is a Daclatasvir wholesaler, Pharmaceutical Cargo Bulk Exporter & Hospital Supply.
USES OF DACLATASVIR (HEPCFIX) TABLET
Chronic hepatitis C virus (HCV) infection
WORKS OF DACLATASVIR (HEPCFIX) TABLET 
Antiviral medicine Hepcfix 60mg Tablet. It works by reducing the amount of the hepatitis C virus in the body and eliminating it from the blood over time..
Fedelty Health Care is India's certified Daclatasvir Bulk Pharma Exporter, Cargo Bulk Supplier, and pharmaceutical wholesaler.
SIDE EFFECTS OF DACLATASVIR (HEPCFIX) TABLET
The majority of side effects do not necessitate medical attention and will go away as your body adjusts to the medication. Consult your doctor if they persist or if you are concerned.
Fatigue
Anemia
Nausea
Headache
WARNING & PRECAUTIONS
It is unknown whether Hepcfix 60mg Tablet affects driving abilities. If you have any symptoms that impair your ability to concentrate or respond, don't drive.
Patients with kidney conditions can safely take Hepcfix 60mg Tablet. Hepcfix 60mg Tablet does not require any dosage adjustments.
Hepcfix 60mg Tablet may be harmful to a pregnant woman. Animal research has demonstrated negative effects on the growing fetus, despite the lack of human studies. Before prescribing it to you, your doctor will consider the advantages as well as any potential hazards. Please seek medical advice.
Fedelty Health Care is a Daclatasvir bulk pharma exporter (Hepcfix Exporter) and a pharmaceutical third-party manufacturer operating businesses in Venezuela, Saudi Arabia, Cambodia, Oman, Brazil, Lebanon, Chile, Peru, Cuba, and Fiji. Hospital supply.