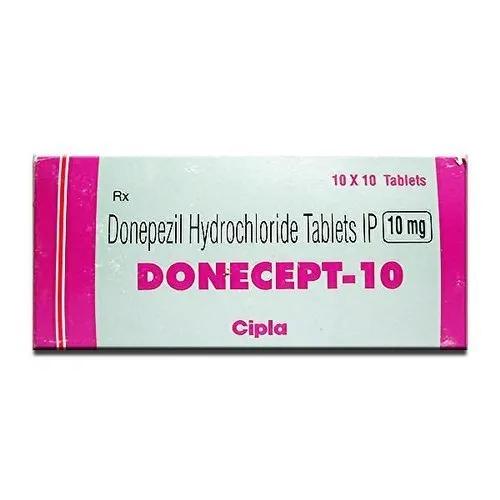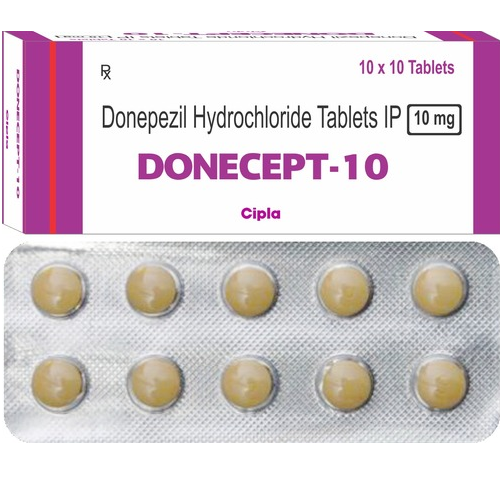 Donecept Donepezil 10mg Tablet
Description
Description:
Fedelty Health Care operates companies in Venezuela, Saudi Arabia, Cambodia, Oman, Brazil, Lebanon, Chile, Peru, Cuba, and Fiji as Donecept 10mg Tablet third-party manufacturer, online pharmacy dropshipping, major pharma exporter, and pharmaceutical contract manufacturer. Hospital supply, government supply, named patient supply, cold chain supply, and drop shipment are some of the other services they offer.
Donecept 10mg Tablet is used to treat mild to moderate dementia in Alzheimer's disease, a progressive illness that gradually affects memory and thinking. It does not cure this illness but may help improve memory, awareness, and other symptoms.
Donecept 10mg Tablet contains Donepezil that falls in the category of drugs called acetylcholinesterase inhibitors. This drug increases the levels of a substance (acetylcholine) in the brain, which is involved in improving memory functioning by slowing down the breakdown of acetylcholine (a substance that allows nerves to communicate and important for normal brain functioning).
Your doctor will explain how to take Donecept 10mg Tablet. You may take it with food, preferably at night before going to bed. Follow the instructions carefully to get the most benefit. The dose may change from time to time to suit your individual needs. It can take up to a few weeks for symptoms to improve so keep taking your medicine regularly. You should not stop taking this medicine without consulting your doctor.
Benefits of Donecept Tablet:
In Alzheimer's disease
In people with Alzheimer's disease, certain nerve cells die in the brain. This results in lower levels of a chemical called acetylcholine which helps nerve cells to communicate with each other. This leads to symptoms of dementia such as memory loss, confusion, disorientation, problems with speech and language, and personality changes. Donecept 10mg Tablet increases the amount of acetylcholine and helps brain cells to communicate. It can, therefore, improve some of the symptoms such as memory, awareness, and the ability to carry out daily functions for a time. However, it is not a cure. You should use the medicine exactly as prescribed. It can take several weeks for your symptoms to improve; so keep using the medicine even if you do not think it is working.
Side Effects of Donecept Tablet:
Most side effects do not require any medical attention and disappear as your body adjusts to the medicine. Consult your doctor if they persist or if you're worried about them.
Common side effects of Donecept: –
Nausea.
Diarrhea.
Insomnia (difficulty in sleeping).
Vomiting.
Muscle cramp.
Fatigue.
Weight loss.
How to use Donecept Tablet:
Take this medicine in the dose and duration as advised by your doctor. Swallow it as a whole. Do not chew, crush or break it. Donecept 10mg Tablet may be taken with or without food, but it is better to take it at a fixed time.
How Donecept Tablet works:
Memory loss in Alzheimer's disease occurs due to disturbances of signal transmission in the brain. Donecept 10mg Tablet is a cholinesterase inhibitor. It works by increasing the levels of a chemical messenger (acetylcholine) involved in transmmission of nerve signals. This improves memory and thinking.
Safety Advice:
Alcohol
It is unsafe to consume alcohol with Donecept 10 Tablet.
Pregnancy
Donecept 10mg Tablet may be unsafe to use during pregnancy. Although there are limited studies in humans, animal studies have shown harmful effects on the developing baby. Your doctor will weigh the benefits and any potential risks before prescribing it to you. Please consult your doctor.
Breast feeding
Donecept 10mg Tablet is probably unsafe to use during breastfeeding. Limited human data suggests that the drug may pass into the breastmilk and harm the baby.
Driving
Donecept 10mg Tablet may decrease alertness, affect your vision or make you feel sleepy and dizzy. Do not drive if these symptoms occur.
Kidney
Donecept 10mg Tablet is probably safe to use in patients with kidney disease. Limited data available suggests that dose adjustment of Donecept 10mg Tablet may not be needed in these patients. Please consult your doctor.
Liver
Donecept 10 Tablet should be used with caution in patients with liver disease. Dose adjustment of this tablet may be needed. Please consult your doctor.
What if you forget to take Donecept Tablet?
If you miss a dose of Donecept 10mg Tablet, skip it and continue with your normal schedule. Do not double the dose.