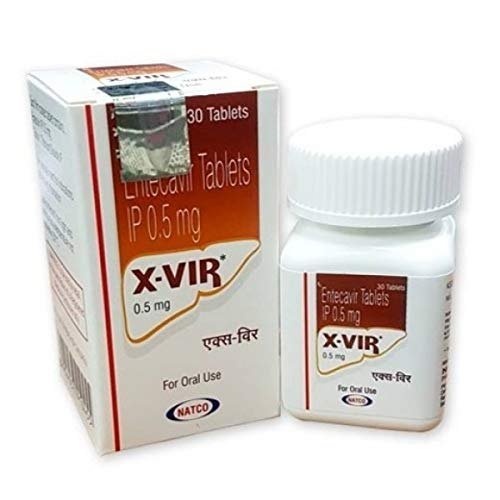 X-VIR – Entecavir 0.5mg Tablet
Description
INTRODUCTION
Entecavir is an antiviral medication found in X-VIR (Entecavir 0.5mg). It's used to treat chronic hepatitis B virus infection in adults with compensated liver disease, in which the liver is damaged but still functions normally. It helps to prevent liver damage by lowering the amount of the Hepatitis B virus in your body. It should not be used on children under the age of two or who weigh less than ten kilograms. Always follow your doctor's instructions when using X-VIR. If you stop taking this prescription without first consulting your doctor, your hepatitis infection may worsen. After you quit utilizing the drug, your primary care physician will keep on observing you and do blood tests for a very long time. X-Vir Tablet is manufactured under Natco, a company that manufactures and markets cheap pharmaceuticals that meet international standards and strives for market leadership in both the domestic and international markets.
USES OF X-VIR
Chronic hepatitis B virus (HBV) infection
HOW X-VIR WORKS
Antiviral medicine X-Vir Tablet. It prevents viruses from reproducing in human cells. This keeps the infection from duplicating and clears your disease.
DIRECTIONS FOR USE
Always follow your doctor's instructions when using X-VIR. Depending on your age, weight, and health, your doctor will determine the dose and duration of treatment. Swallow the pill with a glass of water. The medication ought not to be squashed or bitten.
SIDE EFFECTS OF X-VIR
Lactic acidosis is a liver disorder that creates problems.
Headache, tiredness
Dizziness, nausea
Diarrhea, indigestion, vomiting
Trouble sleeping
Allergic reaction
WARNING & PRECAUTIONS
X-Vir Tablet can make you drowsy and dizzy by lowering your alertness, affecting your vision, or making you sleepy and dizzy. In case you experience any of these manifestations, you ought not to drive.
In people with kidney illness, X-Vir Tablet should be used with caution. X-Vir 0.5mg Tablet dosage may need to be adjusted. Please seek medical advice.
In pregnant women, X-VIR should be used with caution. Prior to taking this prescription, converse with your primary care physician.
The medication might move into breastmilk and hurt the infant, as indicated by restricted human examination.