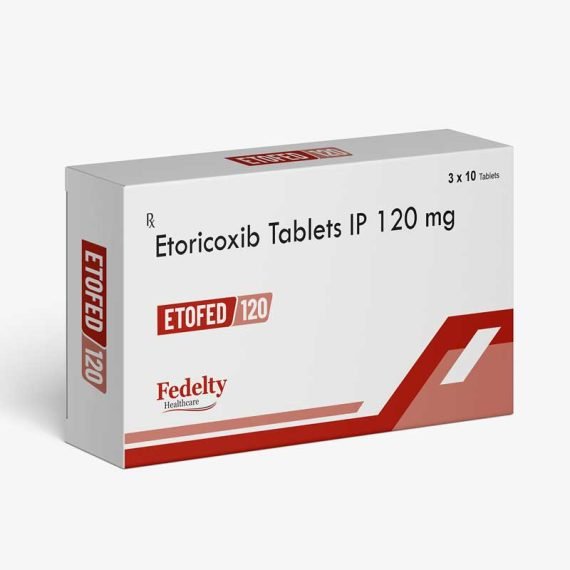 Etofed – Etoricoxib 120mg Tablet
Description
Description:
Fedelty Health Care operates companies in Venezuela, Saudi Arabia, Cambodia, Oman, Brazil, Lebanon, Chile, Peru, Cuba, and Fiji as Etofed 120mg Tablet third-party manufacturer, online pharmacy dropshipping, major pharma exporter, and pharmaceutical contract manufacturer. Hospital supply, government supply, named patient supply, cold chain supply, and drop shipment are some of the other services they offer.
Etofed 120mg Tablet is used for
pain relief
. It relieves pain and inflammation in conditions like rheumatoid arthritis, ankylosing spondylitis, and osteoarthritis. Etofed 120mg Tablet contains Etoricoxib.
How Etofed Tablet works:
Etofed 120mg Tablet is a non-steroidal anti-inflammatory drug (NSAID) called COX-2 inhibitors. It works by blocking the release of certain chemical messengers that are responsible for pain and inflammation (redness and swelling).
Common side effects of Etofed: –
Flu-like symptoms.
Diarrhea.
Flatulence.
Headache.
Dizziness.
Palpitations.
Vomiting.
Nausea.
Edema (swelling).
Abdominal pain.
High blood pressure.
Stomach inflammation.
Constipation.
Gastro-esophageal reflux disease.
Dyspepsia.
Oral ulcer.
Dry socket.
Increased alanine aminotransferase.
Increased aspartate aminotransferase.
Ecchymosis (discoloration of the skin resulting from bleeding underneath).
Weakness.