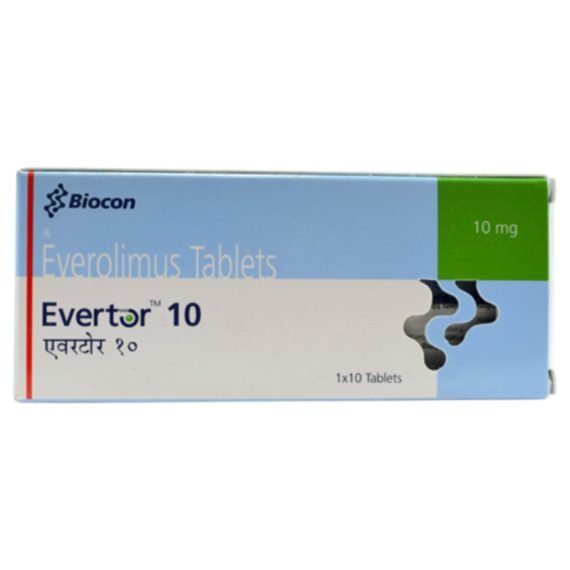 Evertor – Everolimus 10mg Tablet
Description
Everolimus (Evertor) Tablet – Treatment for Multiple Cancer
Everolimus or Evertor Tablet is used to keep transplant recipients from rejecting their organs. It controls the immunological response of the body so that the new organ can be accepted. It's also used to treat malignancies of the breast, pancreatic, lungs, and kidney in conjunction with other drugs. Evertor Tablet must be taken at the prescribed dose and for the prescribed amount of time. It can be taken with or without meals, but it should be taken at the same time each day. This drug might have dangerous negative effects if used in excess. Weakness, nasal irritation, infection, fever, cough, and other side symptoms are prevalent. Consult your doctor right away if any of the adverse effects continue or disturb you. If you have any allergic reactions, call your doctor right once (rash, shortness of breath, coughing, swelling, etc.). If you have increased thirst or frequency of urine, shortness of breath, cough, or fever, or require a vaccine after taking this drug, always seek medical assistance.
Everolimus is manufactured by Biocon, which is a multinational biopharmaceutical firm dedicated to providing inexpensive, high-quality medications to everyone, everywhere.
Fedelty Health Care is an Everolimus wholesaler, Pharmaceutical Cargo Bulk Exporter & Hospital Supply.
USES OF EVEROLIMUS (EVERTOR) 10MG TABLET
Prevention of organ rejection in transplant patients
Treatment of Breast cancer
Treatment of Pancreatic cancer
Treatment of Lung cancer
Treatment of Kidney cancer
HOW EVEROLIMUS (EVERTOR) 10MG TABLET WORKS
Evertor Tablet inhibits the immune system's activity, preventing the donated organ from being rejected.
Fedelty Health Care is a certified Everolimus Bulk Pharma Exporter, Cargo Bulk Supplier, and pharmaceutical wholesaler in India.
DIRECTIONS FOR USE
Follow your doctor's instructions on the dosage and duration of this medication. Take it all in at once. It should not be chewed, crushed, or broken. Everolimus can be taken with or without meals, however, it's best if you take it at the same time every day.
SIDE EFFECTS OF EVEROLIMUS (EVERTOR) 10MG TABLET
Weakness
Sinus inflammation
Infection
Fever
Cough
Fatigue
Stomatitis (Inflammation of the mouth)
Otitis media (infection of ear)
Diarrhea
Upper respiratory tract infection
 WARNING & PRECAUTIONS
Everolimus may induce adverse effects that impair your driving skills. Because tiredness is a typical side effect of Evertor Tablet, it may impair your driving skills.
Patients with renal dysfunction can safely use Everolimus. There is no need to modify the dose of Evertor Tablet.
In individuals with liver problems, Everolimus should be taken with care. Evertor Tablet dosage may need to be adjusted. Please seek medical advice. Patients with the serious liver condition should avoid using Evertor Tablet.
Everolimus should not be used during pregnancy since there is clear evidence that it poses a risk to the growing infant. However, in some life-threatening instances where the advantages outweigh the hazards, the doctor may prescribe it. Please seek medical advice.
Using Everolimus while nursing is generally not a good idea. The medicine may transfer into breastmilk and damage the newborn, according to limited human research.
Fedelty Health Care is an Everolimus bulk pharma exporter (Evertor Exporter) and pharmaceutical third-party manufacturer operating businesses in Venezuela, Saudi Arabia, Cambodia, Oman, Brazil, Lebanon, Chile, Peru, Cuba, and Fiji. Other services they provide are hospital supply, government supply, named patient supply, cold chain supply, and drop shipping.