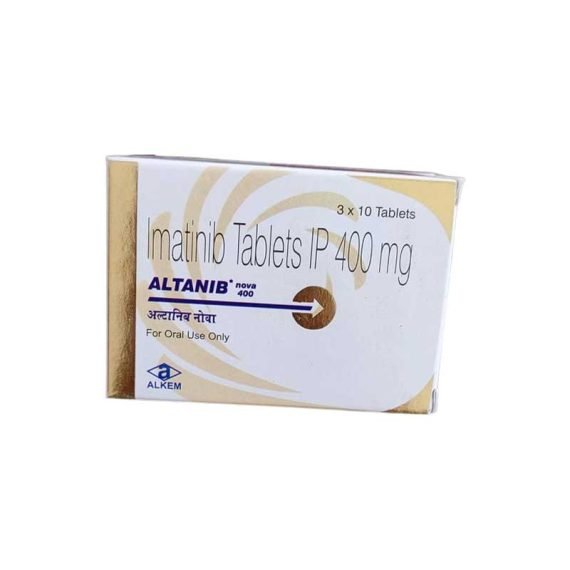 Altanib – Imatinib 400mg Tablet
Alkem Laboratories Limited
Description
Imatinib (Altanib) Tablet – Treatment for Blood Cancer & Gastrointestinal Stromal Tumour
Imatinib, also known as the Altanib tablet belongs to the tyrosine kinase inhibitors family of drugs. It's used to treat blood cancers such as chronic myeloid leukemia and acute lymphocytic leukemia, as well as gastrointestinal stromal tumors. Altanib should be taken with meals, and it's best if you take it at the same time every day. You should take it for as long as your doctor recommends it. The length of treatment depends on your needs and how well you respond to treatment. It can have potentially dangerous negative effects if taken incorrectly or in excess. You may not see or feel the advantages for several weeks or months, but do not stop taking it until your doctor advises you to. Edema, nausea, vomiting, muscular cramps, musculoskeletal discomfort, diarrhea, rash, lethargy, and stomach pain are the most prevalent adverse effects of this medication. If you gain weight quickly and unexpectedly, tell your doctor. While taking this prescription, your doctor may recommend that you have your blood cells and liver function checked on a regular basis. If you're dizzy or have fuzzy vision, don't drive or do anything else that requires mental attention.
Imatinib is manufactured by Alkem Laboratories Limited, which is an Indian multinational pharmaceutical firm based in Mumbai, Maharashtra, India that makes and sells pharmaceutical generics, formulations, and nutraceuticals in India and across the world.
Fedelty Health Care is an Imatinib wholesaler, Pharmaceutical Cargo Bulk Exporter & Hospital Supply.
USES OF IMATINIB (ALTANIB) 400MG TABLET
Blood cancer
Gastrointestinal stromal tumor
HOW IMATINIB (ALTANIB) 400MG TABLET WORKS
Imatinib is a cancer-fighting drug. Bcr-Abl tyrosine kinase is a protein enzyme that is responsible for the aberrant proliferation of cancer cells. In Bcr-Abl positive cells, this medication suppresses proliferation and produces apoptosis. This is how the process of preventing or slowing the spread of cancer works.
Fedelty Health Care is a certified Imatinib Bulk Pharma Exporter, Cargo Bulk Supplier, and pharmaceutical wholesaler in India.
DIRECTIONS FOR USE
Follow your doctor's instructions on the dosage and duration of this medication. Take it all in at once. It should not be chewed, crushed, or broken. It is recommended that you take Altanib with meals.
SIDE EFFECTS OF IMATINIB (ALTANIB) 400MG TABLET
Edema
Nausea
Vomiting
Muscle cramp
Musculoskeletal (bone, muscle, or joint) pain
Diarrhea
Rash
Fatigue
Abdominal pain
 

WARNING & PRECAUTIONS
Imatinib or Altanib may induce negative effects that impair your driving abilities.
In people with renal illness, Imatinib should be taken with care. Imatinib or Altanib dosage may need to be adjusted. Please seek medical advice.
In individuals with severe liver disease, Imatinib should be taken with care. Imatinib dosage may need to be adjusted. Please seek medical advice.
Imatinib should not be used during pregnancy since there is clear evidence that it poses harm to the unborn child. However, in some life-threatening instances where the advantages outweigh the hazards, the doctor may prescribe it. Please seek medical advice.
Using Imatinib or Altanib while nursing is generally not a good idea. The medicine may transfer into breastmilk and damage the newborn, according to limited human research. Breastfeeding should be avoided while using this medication and for one month after quitting it.
Fedelty Health Care is an Imatinib bulk pharma exporter (Altanib Exporter) and pharmaceutical third-party manufacturer operating businesses in Venezuela, Saudi Arabia, Cambodia, Oman, Brazil, Lebanon, Chile, Peru, Cuba, and Fiji. Other services they provide are hospital supply, government supply, named patient supply, cold chain supply, and drop shipping.