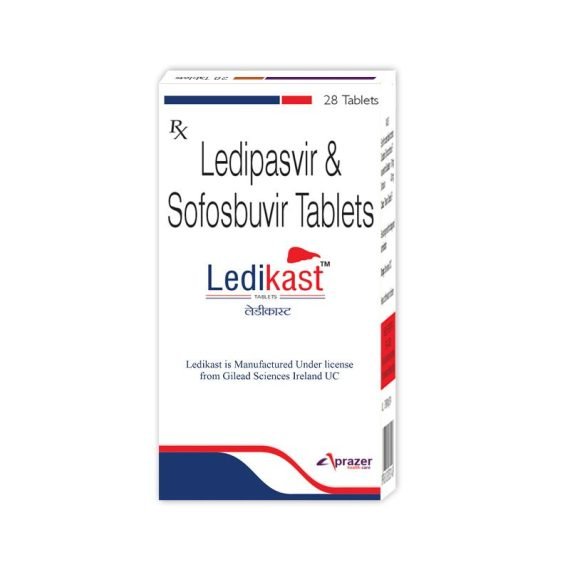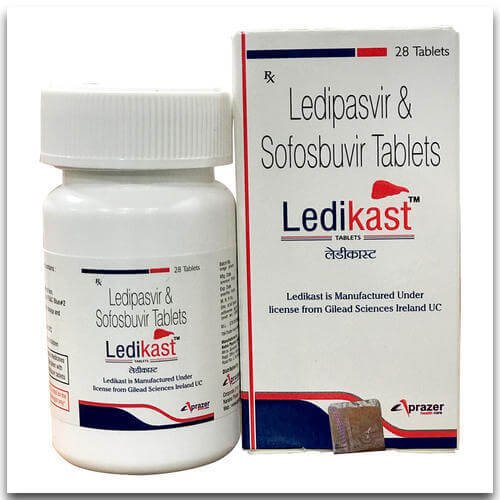 Ledikast – Ledipasvir & Sofosbuvir Tablet
Ledipasvir and Sofosbuvir
Description
Ledipasvir  and Sofosbuvir – ANTIVIRAL DRUGS FOR HEPATITS C
Ledipasvir 90mg and Sofosbuvir 400mg (Ledikast) is a tablet that contains two antiviral drugs: Sofosbuvir and Ledipasvir. In adults, this medicine is used to treat chronic (long-term) Hepatitis C Virus (HCV) infection. Ledikast pills aid to enhance liver function by reducing viral replication in the body, as well as reducing liver damage. If you disregard taking a piece, do as, for example, rapidly as time grants. Regardless, in case your next segment is moving nearer, stay away from the missing piece and return to your standard schedule. Do not take two doses.
Ledikast is manufactured by Aprazer Healthcare, a company that specializes in providing life-saving pharmaceuticals in a range of therapeutic areas, including cancer, hepatology, gastrointestinal, and HIV.
USES OF LEDIKAST
Chronic hepatitis C virus (HCV) infection treatment
HOW LEDIKAST WORKS
Antiviral medicine Ledikast. It works by lessening how much the hepatitis C infection is in the body and disposing of it from the blood after some time.
DIRECTIONS FOR USE
Adhere to your primary care physician's guidelines on the measurement and span of this prescription. Take it all in at once. It should not be bitten, squished, or shattered in any way. Ledikast should be taken first thing in the morning on an empty stomach.
SIDE EFFECTS OF LEDIKAST
Headache
Vomiting
Fatigue
Diarrhea
Cough
Nausea
Insomnia
Anemia
Dizziness
Tiredness
Dyspnea
Dry skin
WARNING & PRECAUTIONS
Ledikast may induce negative effects that impair your driving ability. When Ledikast is taken with other drugs to treat hepatitis C infection, it might cause dizziness and blurred vision, which can impair your ability to drive
In people with liver illness, Ledikast is safe to take. There is no need to modify the dosage of Ledikast.
In patients with severe kidney disease, Ledikast should be taken with caution.
Ledikast is usually thought to be safe to take while pregnant. Animal studies have shown that there are little or no detrimental effects on the developing fetus; however, human studies are lacking.
Ledikast is likely to be safe to take when breastfeeding. In view of restricted human information, the medication seems to represent no significant mischief to the baby.